Best Yadea products in the E-scooters (seated) category
On this page you'll find a ranking of the best Yadea products in this category. To give you a quick overview, we've already ranked the most important information about the products for you.
1. Yadea U3, Black
Small but mighty - the YADEA U3 is pure driving fun in a compact dress.

The U3 is the ideal companion for anyone looking for a practical and affordable vehicle without compromising on quality, performance or safety.

The U3 is equipped with an enduring lithium battery of the latest generation, which can be removed from the scooter in just a few steps.

Thanks to the high-performance charger included in the scope of delivery, the battery can be charged within a few hours and at any socket - whether at home, at school or at work.

The patented YADEA wheel hub motor ensures powerful acceleration and a motorbike brake system, directional indicators at the rear and front and a sophisticated LED lighting system provide the necessary safety in road traffic. 
2. Yadea V7
The ultra-light and manoeuvrable V7 was rated "highly recommended" by Kassensturz and TCS. It impresses with a modern, unique design language and is equipped with the technologies and ultra-light aluminium components. The V7 combines everything that modern e-mobility has to offer: Keyless drive, USB mobile phone charging, 4.2 inch LCD display with day and night function, LED lighting system, high-performance motor and IP65 rain and weather protection. At the heart of the V7 is a removable 48V/24Ah Generation lithium battery, which is constantly monitored and protected by 13 different sensors. In addition to driving pleasure, the V7 puts safety first: the extra-large 16-inch wheels ensure a secure grip on the road and a powerful full-LED light system provides sufficient light and safety even on the darkest nights. Even the most adverse weather conditions cannot harm the V7 - thanks to IP65 automotive class certification, it is absolutely rain and weatherproof.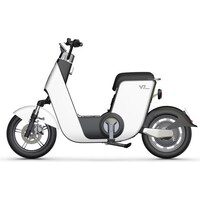 3. Yadea DE3
The Yadea DE3 combines top technology with unique design and Yadea top quality. A powerful 48V/24AH lithium battery accelerates the DE3 within seconds to 20-25 km/h and provides ranges of up to 70km. Rear and front disc brakes, turn signals and a sophisticated LED lighting system with daytime running lights provide the necessary safety in traffic. Alarm system, immobilizer and keyless drive are as standard as the bright LCD display or the patented Yadea wheel hub motor. The lithium battery can be removed in a few simple steps and can be charged within a few hours at any household socket using the high-performance charger included in the scope of delivery. An optionally available top case, specially developed for the DE3, provides additional storage space.