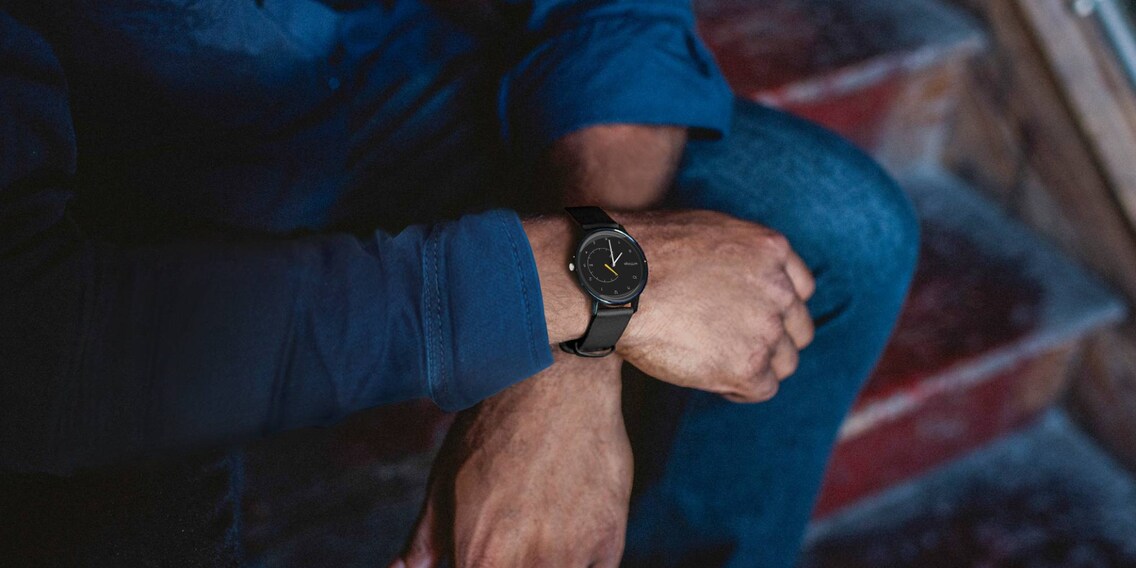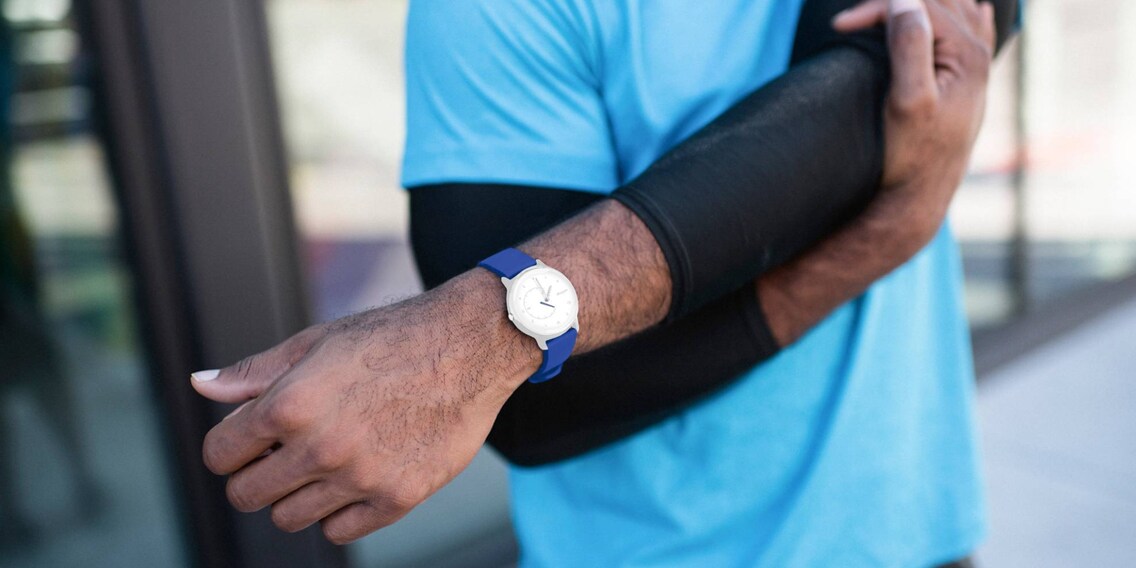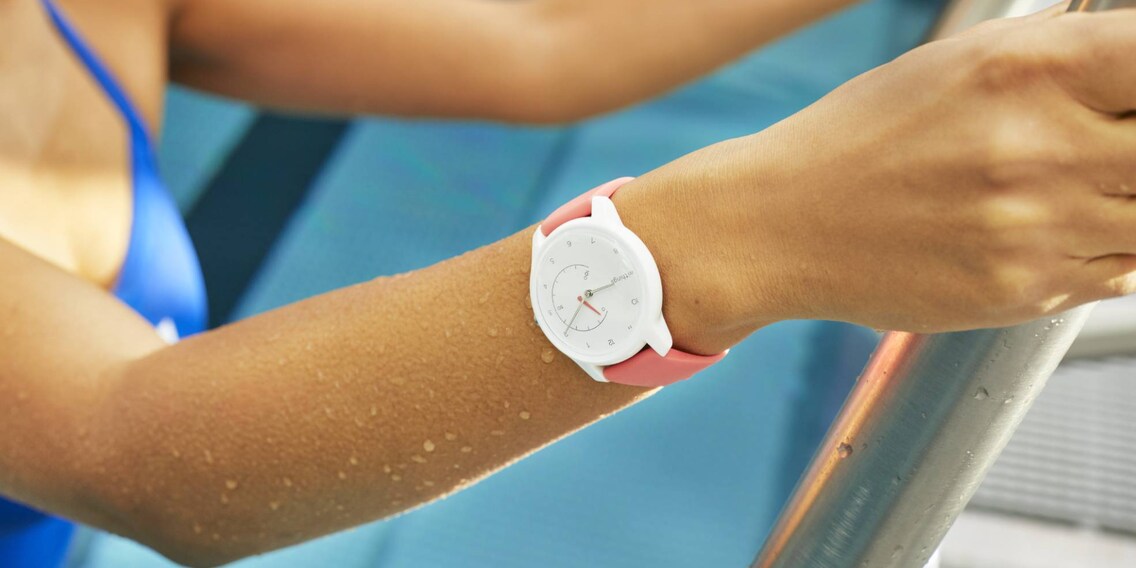 Withings Move: hidden tracking in an analogue watch

At first glance, Withings Move looks like a simple watch. However, it's also an activity tracker. An analog hybrid watch, so to speak. With an unsurpassed battery life and an infinite number of possibilities, it's dressed to impress. And all that at a more than attractive price.
Withings is back. The brand has acquired the Nokia Health label (again). You can read more about this here. One of the first novelties presented at CES 2019 in January was the Withings Move. Move is a modern activity tracker styled after a classic watch. Its simple design is intended to make it particularly user-friendly. What looks simple on the outside actually features the latest technology and, according to Withings, offers everything a hybrid Smartwatch could ever need for a low price. Convince yourself!
The models
The design has been kept basic. The different colours make up its highly individual look. Our models: monochrome all black with bold yellow chronograph hands, maritime sea blue and white or summery fresh coral and white, the Pantone colour of the year.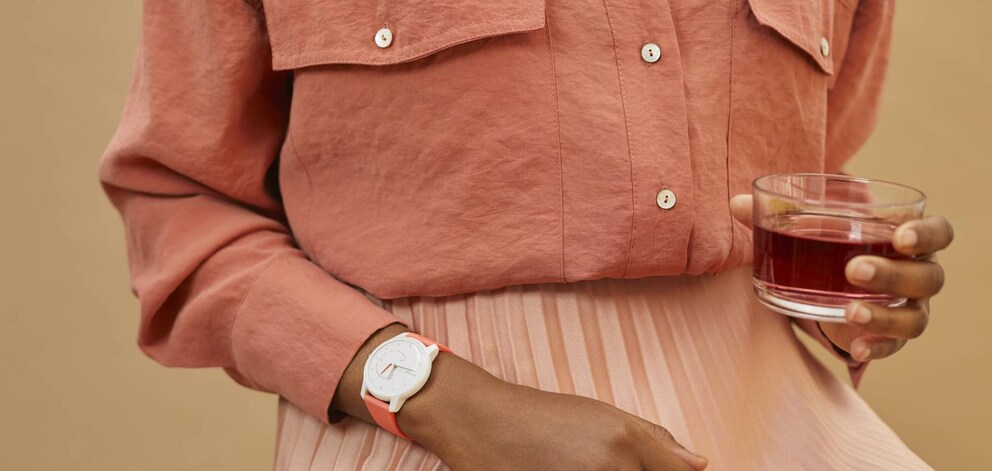 Move will make sure you're up to date on the trends with the most popular colour of 2019, coral. Image: Withings
What the Move has to offer:
Activity tracking.
Battery runtime up to 18 months.
Sleep tracking.
Waterproof up to 50m.
Can be completely individualised.
An analogue fitness watch
Move is far more than a wristwatch used to read the time. In concrete terms, the classic looking watch is a modern activity tracker. Unlike ordinary activity trackers, the Move doesn't show your sporting activities on a display, but directly on its dial with a third hand. It should make activity tracking easy, both functionally and visually.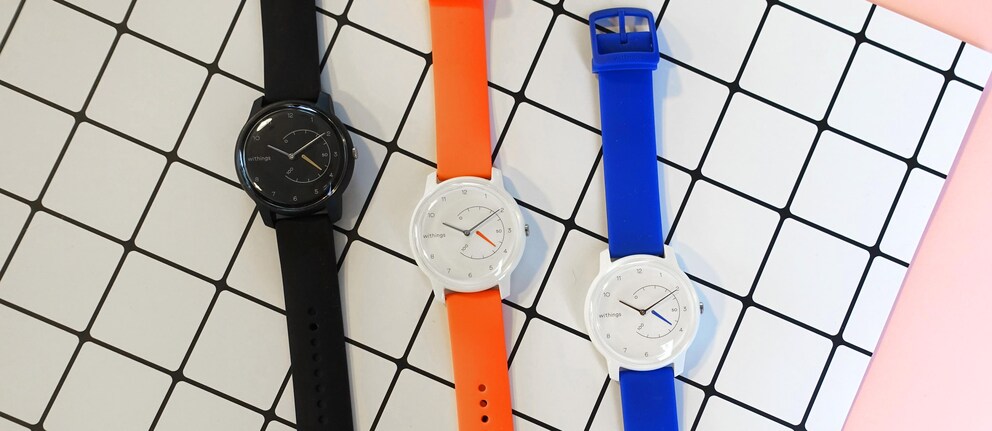 Don't be fooled by the simple design of the analogue clocks: each has a highly technical tracker. Image: Withings
Multisport tracking and connected GPS
Your Move automatically records your activity when you walk, jog, swim or cycle. You can also start a training session by pressing the side button longer. This activates a chronograph and connected GPS to display calories burned, workout duration, distance, altimeter, and your charted path in the Health Mate App.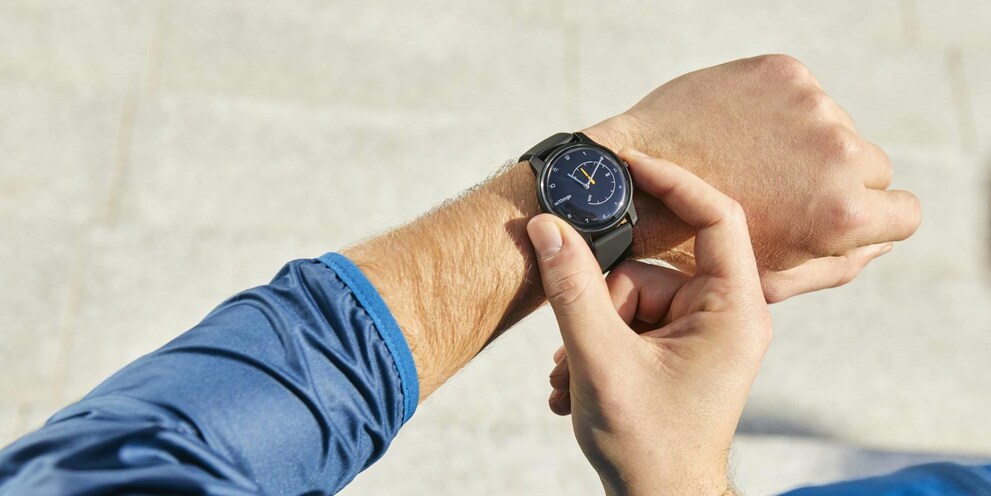 Start your sports session by pressing and holding the side button – dozens of activities are supported. Image: Withings
Unrivalled battery life
Withings boasts the longest battery life on the market compared to its rival Activity Trackers, going up to 18 months without charging.
Waterproof
The Withings Move is waterproof up to 50 meters. Whether jumping into a cool pool or under the shower in the morning - Move goes with you through all water and also tracks every swimming session automatically during your workout.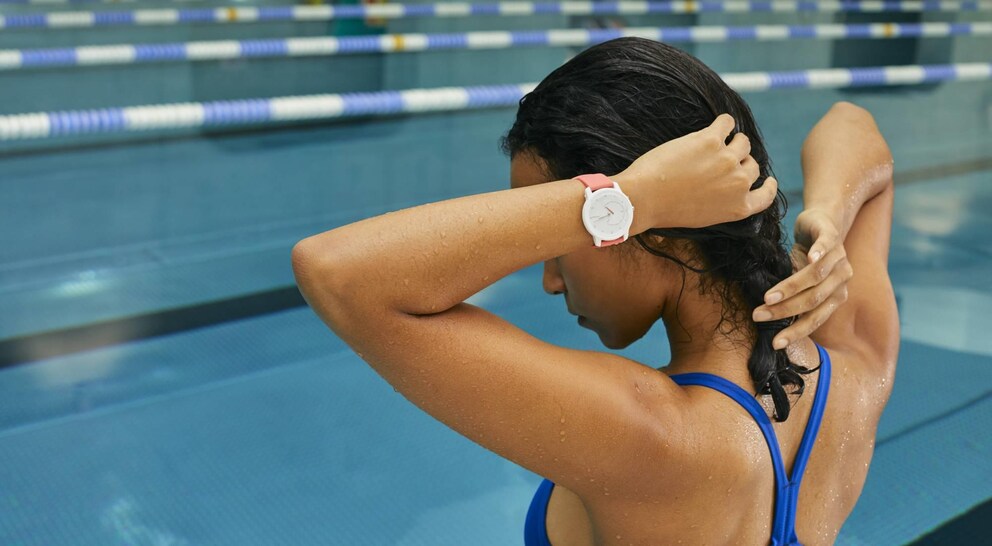 Move is waterproof up to 50 metres, allowing you to record and evaluate any workout you've done. Image: Withings
Sleep tracker
If you keep your Move on when you go to bed, the sleep index automatically records light and deep sleep cycles, as well as the duration and quality of your sleep. Since it automatically detects when you are asleep and also fully depicts shorter naps during the day, the Move allows you to analyse your sleep cycle. If you want, it can wake you up at the ideal time with simple vibrations via Smart Wake-Up.
Fully customisable
You can also have the Move in other colours. You can switch out the dial, case, tracker and bracelet, giving you various options.
---


Discovering foreign countries and cultures and tasting coffee or other delicacies is what I enjoy most when I travel. My home is decorated with little gems I find in thrift shops and at flea markets. When I'm having one of my big DIY moments, my creativity is unleashed. Both the mountains and the seaside restore my inner balance. With a snowboard or surfboard under my feet, I'm happy. 
---
---
---
---
---
These articles might also interest you
Skeleton Loader

Skeleton Loader

Skeleton Loader

Skeleton Loader

Skeleton Loader

Skeleton Loader