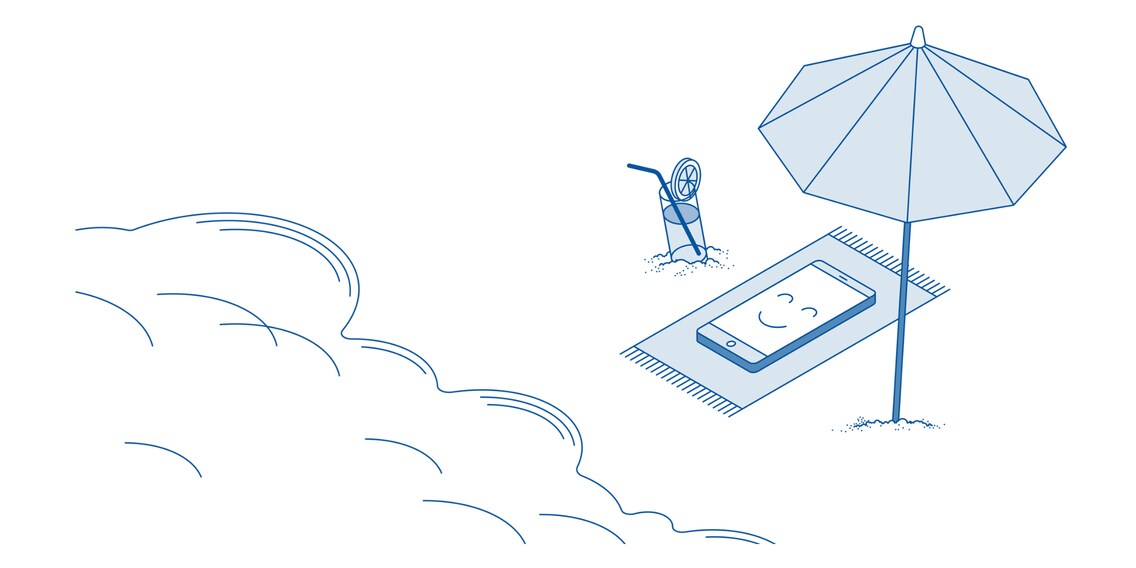 This article was translated automatically.
We lower the roaming prices at digitec connect
We are lowering the price for roaming data packages and telephony abroad. An additional GB of roaming in the EU/USA now costs 9.90 instead of 14.90. Calls from Switzerland to the EU/USA zone now only cost 0.4 instead of 0.75 CHF per minute.
With our digitec connect mobile subscription, you already have 1 GB roaming in the EU/USA included per month. If this was not enough for you, it quickly became expensive. But now the time has come to lower the roaming prices for the EU/USA. Now an additional GB for EU/USA costs only 9.90, which makes us more attractive compared to our competitors.
We have also lowered the telephony prices from Switzerland to abroad. Now you pay only 0.4 CHF instead of 0.75 CHF per minute when calling someone in the EU/USA zone. A call to zone 2 will now cost you 1.5 instead of 2.- and a call to zone 3 is only 2.50 instead of 3.- per minute. All details about the zones and which countries are in which zone can be found in the zone list.
Why exactly now?
When we launched our digitec connect cell phone subscription almost three years ago, we had a correspondingly lower roaming requirement due to the small number of customers. This was followed by two years in which travel was not a big issue and therefore roaming was used very little. Now, after almost three years, our customer base has grown strongly and travel is again possible almost flawlessly. This naturally increases the volume of roaming packages purchased, which gave us a better negotiating position with Sunrise and enabled us to negotiate more attractive purchase prices. Everyone should now benefit from this, which is why we are lowering the price in time for the summer.
In the first two years, we did not have sufficient experience with international telephony and did not know to which country calls were often made. Since we have different costs per country for international telephony, we have to make a mixed calculation to minimize the risk. After almost three years we know a lot better where our customers are calling to and so we were able to adjust the prices.
What are the prices for the B2B subscription and the student offer?
The 9.90 per additional GB roaming in the EU/USA is also valid for our B2B subscription and the student offer. If you are interested in one of the offers, you can find all information in detail here:
You don't know our digitec connect mobile subscription yet?
The mobile subscription is equally attractive for frequent and infrequent users. The subscription price is not fixed, but adjusts to your monthly consumption. That's why you never pay more than you use.
Monthly 3 GB national data and 1 GB roaming data in the EU/USA included
Unlimited telephony and SMS/MMS to all Swiss networks (excl. value added services)
Monthly 25.- and from 7 GB you have a national data flatrate for 49.-.
No minimum contract period and no activation fees
Benefit from additional data with the Family + Friends Option
5G option available
First MutliSIM option is free for one year, afterwards 5.- per month
Payment with credit card or TWINT

On the Sunrise network

Subscribe now at connect.digitec.ch.

Do you have any questions or suggestions for us? What do you think of digitec connect? Take part in the discussion with the community. Click here for the digitec connect community discussion.
---
Almost anything can fascinate me, I'm always open to new experiences. That's why I'm in exactly the right place, discovering and exploring new and wonderful products and communities every single day.
---
---
These articles might also interest you
Skeleton Loader

Skeleton Loader

Skeleton Loader

Skeleton Loader

Skeleton Loader

Skeleton Loader