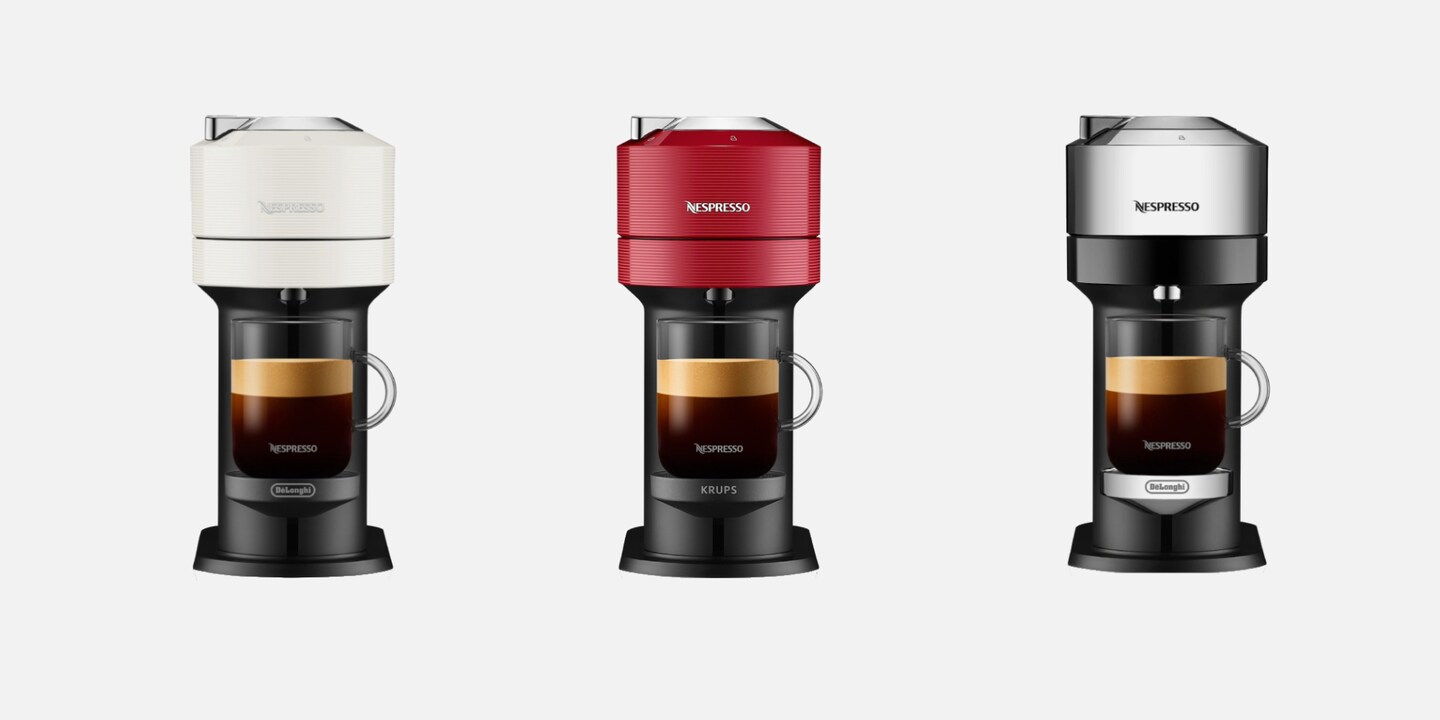 Vertuo Next, Nespresso's new coffee system
Nespresso is launching the Vertuo Next line in Switzerland on 25 March 2021. It's a new Nespresso system that uses an integrated barcode scanner to prepare your coffee with the ideal water temperature and amount for each type of capsule. From today, you have the chance to preorder the machines produced by De'Longhi and Krups.
This week, Nespresso is launching a new coffee system that's the result of a collaboration with coffee machine manufacturers De'Longhi and Krups: Vertuo Next. What's new? Unlike the traditional Nespresso original machines, this new system is compatible with a new capsule shape: large, round capsules featuring a barcode. At the touch of a button, this allows you to prepare six different cup sizes from 25 different coffees. Fancy a ristretto, double espresso or a 535 ml carafe? No problem! The Vertuo Next technology also differs from the previous Nespresso system. Vertuo Next machines are equipped with an intelligent barcode reader. It scans the code on the inserted Vertuo capsule and adjusts the brewing parameters accordingly by setting the right temperature, volume of water and number of capsule rotations for the selected coffee. The system reaches up to 4000 rotations per minute, which, according to the manufacturer, creates intense aromas.
Which machine suits you?
Next, Next Premium and Next Deluxe: all these coffee machines have the same functions and differ in their design. I've mentioned below which ones are available for preorder now.
Vertuo Next
For those who like simple and modern designs, the Vertuo Next is available in red, white and anthracite.
Vertuo Next Premium
Prefer dark and metallic touches? If so, the Vertuo Next Premium in black is for you.
Vertuo Next Deluxe
If you're into sophisticated design, the Deluxe variants with a high-quality chrome finish might be what you're looking for. This model is available in two metal versions.
---
Murat Circi
Senior Portfolio Development Manager, Zurich
What makes me happy? Netflix, travelling, dancing, music, wine and Gin&Tonic. I'm a fan of healthy food and cottage cheese as a source of protein. Homemade muesli and black coffee are a must for my daily breakfast. I never say no to tasty food – Asian and Mediterranean dishes are my favourite. What I like most about my job is that it's varied and dynamic: my crazy team and the fast pace of e-commerce make sure work is never boring. I'm a passionate father to a son, so there's plenty of action for me after work, too.
---
---
---
---
These articles might also interest you
Skeleton Loader

Skeleton Loader

Skeleton Loader

Skeleton Loader

Skeleton Loader

Skeleton Loader