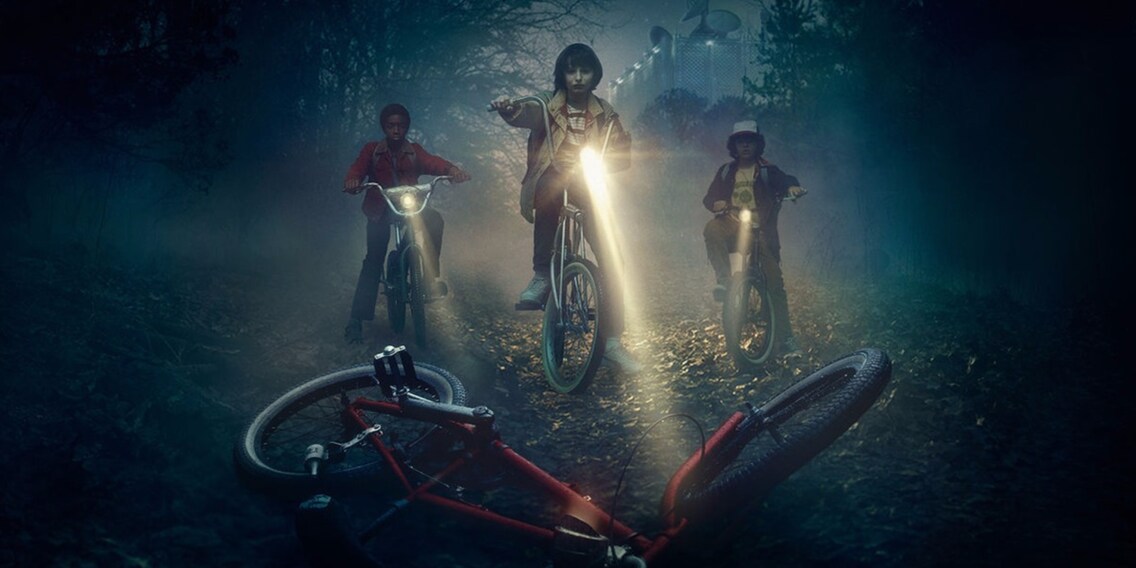 Time to close those blinds and draw the curtains: These 10 movies and series are not to be missed!

Instead of getting overpriced cinema tickets to see a cheesy blockbuster, you're better off checking out the below movies and series – now watchable from the comfort of your own sofa thanks to Chromecast or Apple TV.
This beautiful Indian Summer is perfect for a stroll along the lake or a bike tour. However, if you've already splashed out on a Chromecast or Apple TV, you're going to have to try it out at some stage. So block out that annoying sun, get comfy on your sofa or favourite armchair and let the following movies and series enchant you. All content is available on Netflix, Google Play Store or iTunes.
Recommended series
Stranger Things
A mixture between Twin Peaks and the X Files probably best describes this series. An homage to the eighties that refrains from playing into the usual clichés. The plot follows a group of "Dungeons and Dragons"-playing kids in search of their vanished friend. At the same time, the kid's mother and brother are all out looking for him as well – each in their very own way. The series will have you glued to the screen from the get-go. Elements of sci-fi, mystery and horror are accompanied by a fantastically atmospheric soundtrack. You will get through the eight chapters in not time.
Peaky Blinders
This British gangster series is set in 1920s Birmingham. The story centres on Tommy Shelby – the leader of a gang that's running a dodgy business and is always two steps ahead of its adversaries and the police. This series is intelligent and will have you on the edge of your seat. You can look forward to two seasons of prime entertainment and a third one that's just started. The BBC plans on producing two more seasons.
Master of None
Admittedly, this one's no longer brand-new but still a must-see. In this comedy series, Indian-American comedian Aziz Ansari is essentially dealing with his own personal experiences in a very charming and intelligent way. This "warts and all" comedy-drama has Ansari going through failed dates, embarrassing castings and downright bizarre dialogs with his parents. A series that is refreshingly unusual.
BoJack Horseman
The third season of this amazing cartoon series has only just been released on Netflix. The show is based on the washed-up main character Bojack, who pines for his former glory and tries to drink away his sorrows at excessive parties. The characters include humans and animals that are complex and emotional – something quite rare for animated series. Although BoJack Horseman is jam-packed with stupid jokes, the series does not lack sensitivity and rarely has happy endings.
Marseille
Netflix' first European series is entirely dedicated to the dilapidated French city of Marseille. Initially introduced as the French answer to House of Cards, this series is not quite on par with Kevin Spacey's equivalent when it comes to acting and content. However, political power struggles, mafia murders and an outstanding Gerard Depardieu in the role as a home-loving mayor definitely make this series worth watching.
Recommended movies
Zoomania
A colourful population of stereotypical animals, an over-ambitious rabbit police woman with a shady fox as a sidekick and carnivores inexplicably turning into savage beasts – that's the plot of this must-see movie for all Disney and animation fans. Zoomania is hilarios and charming and there's even a bit of film noir in it. If the sloths don't have you falling off your sofa laughing, I don't know what will.
10 Cloverfield Lane
In its predecessor, enormous aliens are attacking planet earth. This sequel is set before these events. After being in a car accident, a young woman finds herself in a bunker with two men. The leader of the two refuses to let her go and insists that the apocalypse has begun and that the only safe place is indoors. This marks the beginning of an angsty thriller that – inspite of the first movie – keeps you wondering whether the woman is being protected by rescuers or being held captive by kidnappers who simply made up the whole thing.
Eddie The Eagle
A feel-good comedy that tells the story of the first British ski jumper to take part in the winter Olympics. Eddie went down in history as the worst ski jumper of all times. As a very shortsighted man that was a bit on the podgy side is how the audience of 1988 will always remember him – a truly lovable loser.
The Dark Side of the Moon (Die dunkle Seite des Mondes)
This movie is based on Swiss author Martin Suter's bestselling novel, in which a successful lawyer goes off the rails after taking magic mushrooms. The main character in this complex story typical for Suter is played by German actor Moritz Bleibtreu. And just like the book, this movie is a combination of white-collar crime, a love story and unexpected twists.
Guernica
The story explains how the Spanish city sadly attained fame after it was the target of a German bomb attack during the civil war. In this movie, it is also the scene where a cynical American journalist and a dedicated female censor of the Spanish state come together. A gripping story revolving around a historical moment.
These devices will effortlessly stream the above to your TV
---


Being the game and gadget geek that I am, working at digitec and Galaxus makes me feel like a kid in a candy shop – but it does take its toll on my wallet. I enjoy tinkering with my PC in Tim Taylor fashion and talking about games on my podcast http://www.onemorelevel.ch. To satisfy my need for speed, I get on my full suspension mountain bike and set out to find some nice trails. My thirst for culture is quenched by deep conversations over a couple of cold ones at the mostly frustrating games of FC Winterthur. 
---
These articles might also interest you
Skeleton Loader

Skeleton Loader

Skeleton Loader

Skeleton Loader

Skeleton Loader

Skeleton Loader