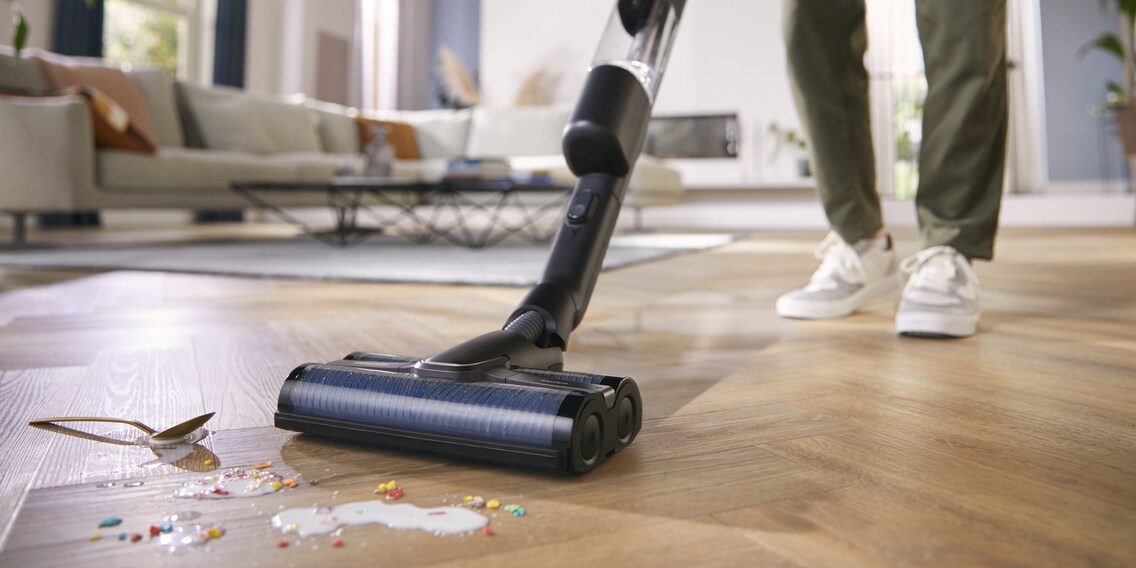 This article was translated automatically.
The new AquaTrio Cordless 9000 from Philips is here
Remove crumbs, hair, ketchup and cornflakes with milk from the floor in one pass and all with one appliance? That's what the new AquaTrio Cordless 9000 from Philips promises. The new device is supposed to be able to wipe stains, liquids, dirt and dust at the same time. In the following article you can read more about the features of the new vacuum cleaner.
The Philips AquaTrio Cordless is designed to provide reliable and hygienic cleaning on all hard floors in your home. The device is equipped with so-called AquaSpin nozzles. These allow you to vacuum and damp mop at the same time. According to the manufacturer, the nozzles eliminate up to 99.9% of bacteria. Because the self-cleaning brushes rotate very quickly, it feels as if the AquaTrio is "gliding" across the floor, making the device feel lighter than it actually is.
The wiping function
The appliance has two different water tanks: a special water tank with fresh water, from which clean water flows continuously onto the floor, and a separate dirty water tank that sucks in dirty water from the floor. The fact that the clean and dirty water are separated is a big difference compared to mopping with a conventional mop. So in the end you don't have the feeling that you have only carried the dirt from A to B.
In the station, the device is automatically cleaned completely at the touch of a button, so that the multiplication of bacteria should also be prevented here.
Further features
. The modular 3-in-1 system allows the unit to be converted into a cordless hoover or handheld hoover, which can be used to clean all types of floors and, thanks to the accessories, upholstery and surfaces.
An LCD screen also shows you the current battery status and the cleaning modes. The battery is replaceable and provides up to 45 minutes of runtime on a single charge.
---



After wintry days on the snowboard in the Flims mountains and heated duels on the tennis court, I like to take things a little easier - on the road with my Vespa, for example, or on warm summer evenings with friends at the lake.
---
---
These articles might also interest you
Skeleton Loader

Skeleton Loader

Skeleton Loader

Skeleton Loader

Skeleton Loader

Skeleton Loader