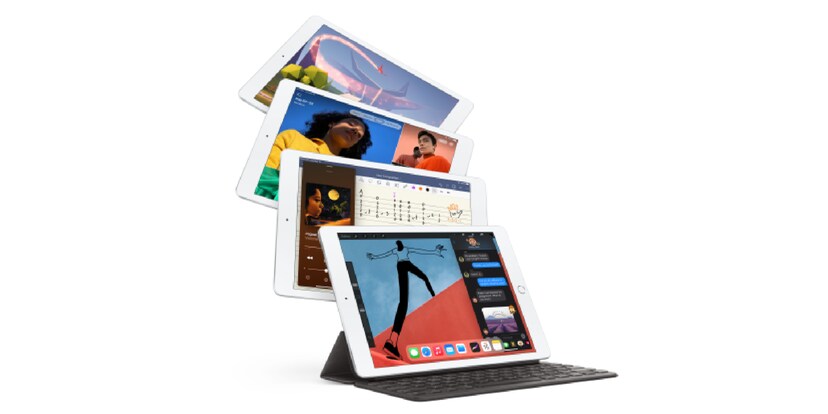 The new 2020 iPad (8th Gen): order now
The long wait is over. Yesterday, Apple presented the new highlights among the iPad series. The iPad (8th Gen) is available in three different colours. Here you can find all the models and options. The official sales launch is on 18.09.2020. We'll have more information for you about the new iPad Air in October.
After Apple's launch of the new iPad Pro this year, it was high time for a makeover of the bestseller: the iPad (7th Gen). If you're looking for a handy iPad that's fast, stylish and good value for money, look no further. With a stronger chipset and a battery life of up to 10 hours, the new iPad is also great for watching movies or playing games on the go. You can find out what has changed below.
iPad (8th Gen)
Wifi
Cellular (4G)
The comparison
| | iPad 8th Generation | iPad 7th Generation |
| --- | --- | --- |
| Display | 10.2" Retina Display | 10.2" Retina Display |
| Chip set | A12 Bionic Chip & Neural Engine | A10 Fusion Chip |
| Memory | 32GB / 128GB | 32GB / 128GB |
| Software | iPadOS 14 | iPadOS 14 |
| Camera | 8 MP / Front 2.4 MP | 8 MP / Front 1.2 MP |
| Connections | Lightning,3.5mm headphones, Smart Connector | Lightning, 3.5mm headphones, Smart connection |
| SIM | Nano SIM (supports Apple SIM), eSIM | Nano SIM (supports Apple SIM), eSIM |
| Dimensions | 250.6 × 174.1 × 7.5 mm | 250.6 × 174.1 × 7.5 mm |
| Accessories | Apple Pencil (1. Generation), Apple Smart Keyboard | Apple Pencil (1. Generation), Apple Smart Keyboard |
Matching accessories
iPadOS 14
In June of this year, the software received quite a massive update. The motto was to make the iPad even easier and faster to use. Did you know that you can convert all your notes written with the Apple Pencil directly into typed text? I really wish that had been an option back when I was a student. The widgets on the Home Screen have been optimised to give you even more information at a glance. If you're missing something, you can simply add it to your Home Screen. From chat optimisations to map revisions, iOS 14 has it all.
A quick look at the keynote
Out with the old and in with the new: trade-in or resell your old iPad
When choosing what to do with your old iPad, you have two options. If you originally purchased your device through Digitec Galaxus, you can use our resale platform to sell it. Just go to your user profile and click on «Sell products». In a few simple steps, you can put your tablet up for purchase by other users. For more detailed information, click here.
If you'd like to sell your device via a recommerce company, verkaufen.ch (website in German) is an option. Select your device and add details about its condition. Once you're done, you'll see a buyback offer. Shipping your device to verkaufen.ch is free. It's worth checking out – experience has shown that secondhand Apple products still tend to be worth quite a bit.
Want to stay in the loop? No problem!
Follow me as an author by clicking the blue button, and experience the wonderful world of tablets and any special offers and sales. I'll keep you posted.
---

I enjoy travelling around the globe and discovering other cultures. My essential travel items? My tablet and gadgets, of course! Being at the heart of the digital transformation fascinates me.
---
---
---