The First Avenger: Civil War – Win one of 6 fan packages or 4 x 2 cinema tickets!

You're a die-hard comic fan who chooses super hero literature over magazines any day? Captain America is your personal super hero and you know the 1941 Captain America first edition, aka the Holy Grail, inside out. Prove how big a fan of Captain America you are and take part in our competition!
How to enter?
Show us how much of a Captain America fan you are and upload your picture (e.g. Capatain America collection, you in a Captain America outfit etc.) by 28 April 2016 via the link below. Don't miss this chance to win 1 of 6 fan packages or 1 of 4 x 2 cinema tickets. All participants automatically take part in the prize draw. The winners are contacted personally after the closing date.
The fan package
Captain America notepad, Universal phone case, cap, hoodie, t-shirt, USB stick, laptop case und 2 cinema tickets.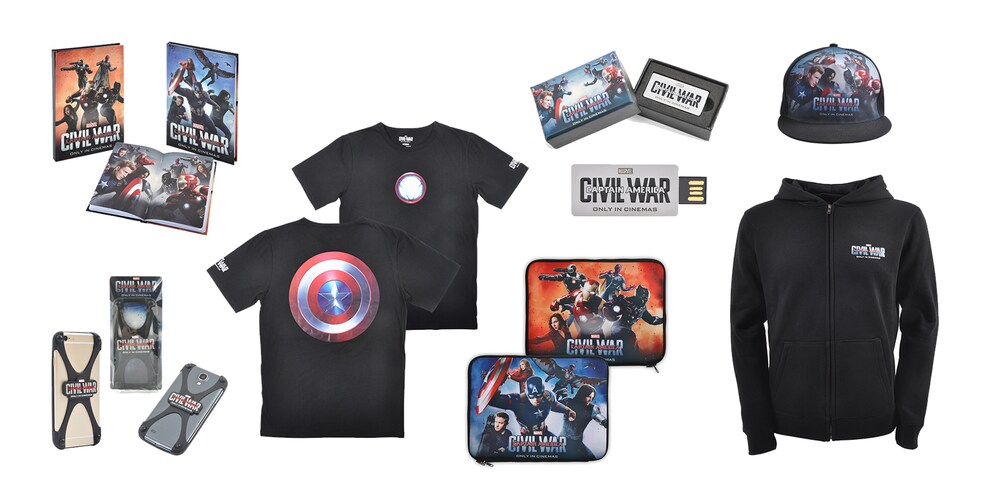 The First Avenger: Civil War – in cinemas 28 April
The First Avenger: Civil War takes up where "Avengers: Age Of Ultron" left off. The movie finds Steve Rogers leading the newly formed team of Avengers in their continued efforts to safeguard humanity. But after another incident involving the Avengers results in collateral damage, political pressure mounts to install a system of accountability, headed by a governing body to oversee and direct the team. The new status quo fractures the Avengers, resulting in two camps – one led by Steve Rogers and his desire for the Avengers to remain free to defend humanity without government interference, and the other following Tony Stark's surprising decision to support government oversight and accountability.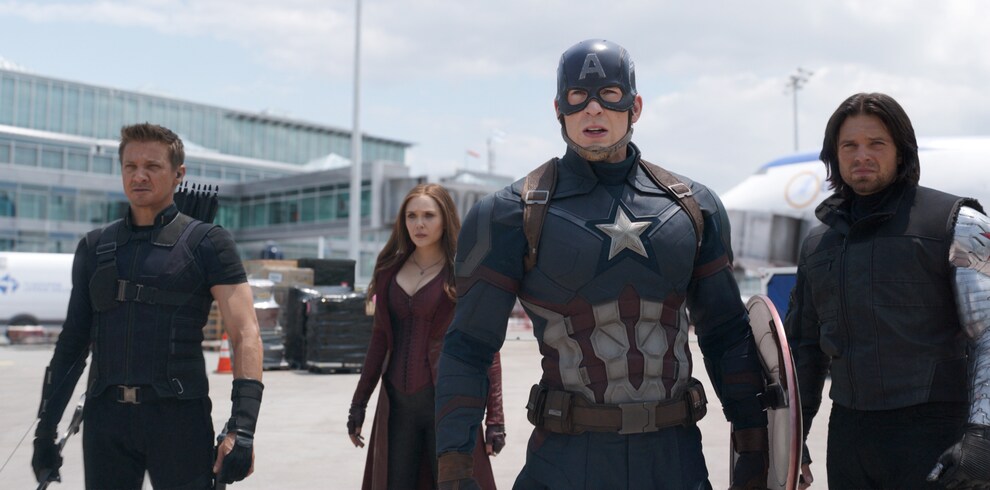 Based on the Marvel comic character first published in 1941, "Captain America: Civil War" continues the lineage of Marvel's epic big-screen adventures. The film returns Chris Evans as the iconic Super Hero character Steve Rogers/Captain America along with Robert Downey Jr. as Tony Stark/Iron Man, Scarlett Johansson as Natasha Romanoff/Black Widow, Sebastian Stan/Winter Soldier, Anthony Mackie/Falcon, Paul Bettany/Vision, Jeremy Renner/Hawkeye, Don Cheadle/War Machine, Elizabeth Olsen/Scarlet Witch, Paul Rudd/Ant-Man, Emily Van Camp/Agent 13, Frank Grillo/Brock Rumlow and William Hurt ("The Incredible Hulk") as General Thaddeus Ross. The film also includes outstanding additional cast, including Chadwick Boseman ("42," "Get on Up") and Britain's film icon Martin Freeman ("Sherlock", "The Hobbit"). Joe and Anthony Russo, directors of the critically acclaimed and widely popular "The Return of the First Avenger", are now also behind both parts of the much anticipated epic final "Avengers: Infinity War".
Fan shop
Discover a part of our wide Captain America range and other super hero items.
Captain America: The First Avenger (2011, Blu-ray)
Captain America: The First Avenger (2011, Blu-ray)
Captain America 1+2 Doppelpack (Blu-ray)
Captain America: The First Avenger (2011, DVD)
Entry conditionsThe competition is open until and including 28 April 2016. Each participant may only enter the competition once and must be 18 or over.Participants who get the most votes for their uploaded Captain America photo will be shortlisted for the prizes. The winners will be contacted by e-mail after the competition closes. The prizes can only be shipped to addresses in Switzerland and Liechtenstein. Legal proceedings are barred.
---

My intrinsic motivation is constantly pushing me to outdo myself – whether I'm supervising projects at work, working out in my spare time or setting personal goals. Fun, enthusiasm and conviction are part of my way of life.
---
These articles might also interest you
Skeleton Loader

Skeleton Loader

Skeleton Loader

Skeleton Loader

Skeleton Loader

Skeleton Loader