The Bosch Vacuum Mixer, available now!
The Bosch brand has launched new vacuum mixers to prevent food waste. They're available now from Galaxus.
Bosch wants to set an example when combatting food waste. According to the manufacturer, more than 1.3 billion tons of food are wasted every year. If you further follow Bosch, more than half of the food thrown away even comes from private households, although a large proportion of it could be preserved.
With the Bosch Fresh Vacuum System, you can turn your Bosch hand blender or mixer into a vacuum appliance with just one click. The system removes air from compatible vacuum boxes, zipper bags or to-go bottles so that food scraps or ingredients can be stored up to two times longer. The vacuuming system is now available on Galaxus as a hand blender.
The most important points at a glance
Vacuum pump
A powerful vacuum pump (-500 mbar) removes air from special vacuum accessories for an airtight seal.
Airtight closure preserves your food and keeps it fresh longer.
A specially developed pump available for the ErgoMixx hand mixer.
Easy to attach in just one click.
Works with vacuum containers and zipper bags.
Vacuum container
Made from BPA-free Tritan: crack-, break-, stain- and odour-resistant.
Suitable for freezers, microwaves and dishwashers.
With a vacuum display, date selector and clips.
Includes a drip tray to separate the food from any moisture.
Stackable for easy storage.
Comes in different sizes: 0.9 l / 1.2 l / 1.7 l.
Ideal for storage in the fridge, freezer, pantry or on the go.
Works with all hand blender pumps and Bosch vacuum blenders.
Vacuum bag
Durable BPA-free material: multi-layered, tear-resistant, textured for quick air release.
Reusable: practical double zipper for easy opening and closing, dishwasher safe.
Prevents freezer burn.
Suitable for sous-vide up to 85°C and microwave up to 70°C (reheating).
Available in 2 sizes: 1.2 l and 3.8 l.
Label for content and date.
Ideal for storing in the fridge, freezer, pantry or on the go.
Works with all hand blender pumps and Bosch vacuum blenders.
Find more hand mixers on Galaxus here. Find the hand blenders here.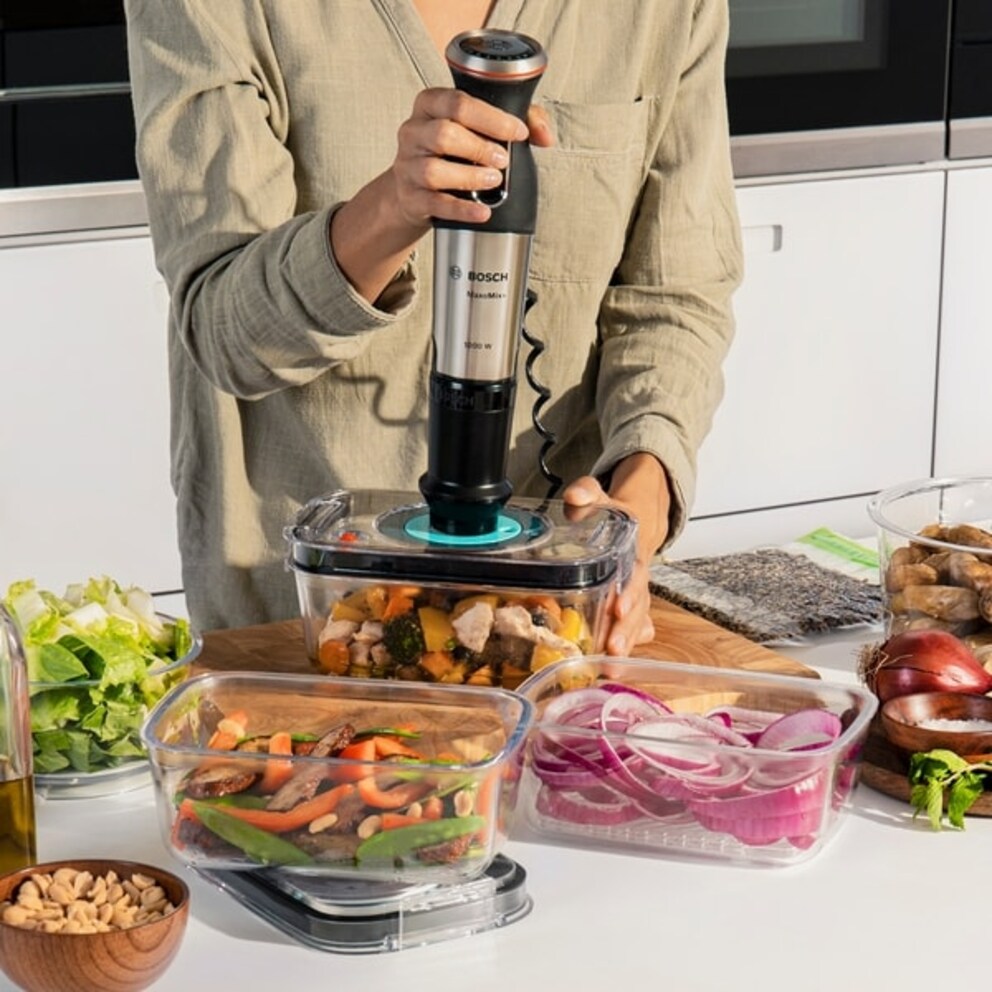 ---
What makes me happy? Netflix, travelling, dancing, music, wine and Gin&Tonic. I'm a fan of healthy food and cottage cheese as a source of protein. Homemade muesli and black coffee are a must for my daily breakfast. I never say no to tasty food – Asian and Mediterranean dishes are my favourite. What I like most about my job is that it's varied and dynamic: my crazy team and the fast pace of e-commerce make sure work is never boring. I'm a passionate father to a son, so there's plenty of action for me after work, too. 
---
---
---
---
These articles might also interest you
Skeleton Loader

Skeleton Loader

Skeleton Loader

Skeleton Loader

Skeleton Loader

Skeleton Loader