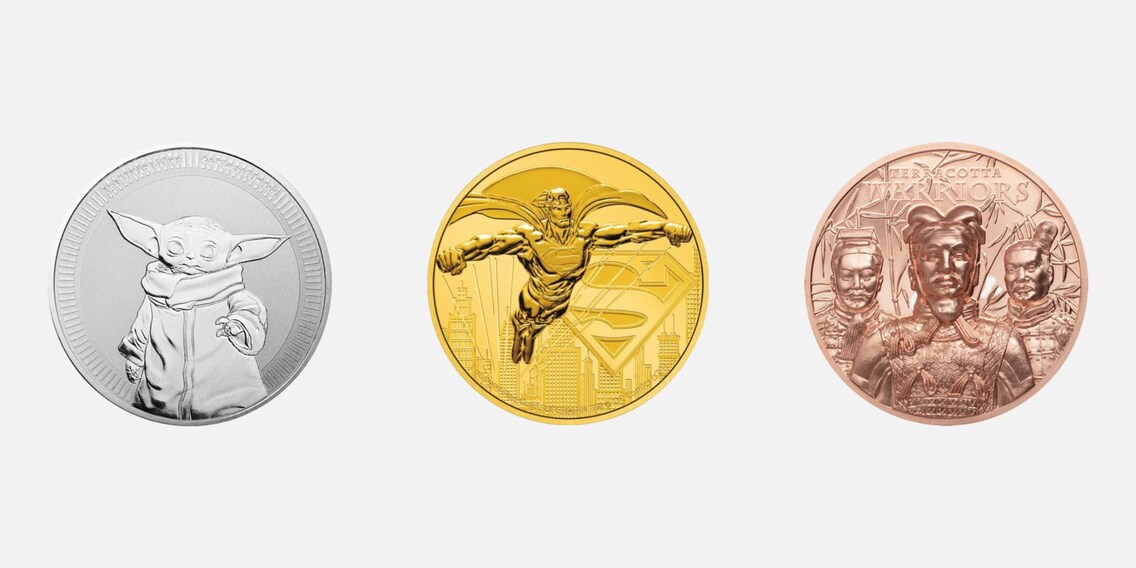 Start your coin collection now!

Translation:
machine translated
Are you passionate about collecting coins? We now have coins in our range that feature many different motifs. Whether it's the hero of your favourite film or important figures from cultural history.
The value of coins as an investment is derived from the precious metals they contain, just like the "gold vreneli". They are minted in large quantities and are subject to the same price fluctuations as conventional precious metal investments. Collector coins differ from bullion coins in that they are minted in limited numbers and often on special occasions. Here, as everywhere else, the rarer and more expensive the coin, the higher its collector's value. To maintain this, it is also important that the condition of the coin remains impeccable. If you're looking to get started in coin collecting, then you've come to the right place.
Personally, I like these three coins very much:
Collect your Grogu silver coin from the world-famous Star Wars series- "The Mandalorian".
The premium bullion coin is made of 99.9% silver.
Or immerse yourself in the DC world and get your hands on one of a total of 150 copies of Superman.
This special coin is made of the finest gold.
If you're more into silver, this is the coin for you.
If you're more of a historian, the Terracotta Warriors copper coin is perfect for you. The motif of the copper coin is three soldiers of the Chinese Terracotta Army from the Qin dynasty.
The coin is made of copper.
We have many other collector coins in our assortment:
If you are still looking for a matching collector's folder:
Here is the complete coin assortment.. Feel free to check back from time to time, as our coin assortment is constantly expanding.
---


«That's my ninja way» – Naruto Uzumaki
---
---