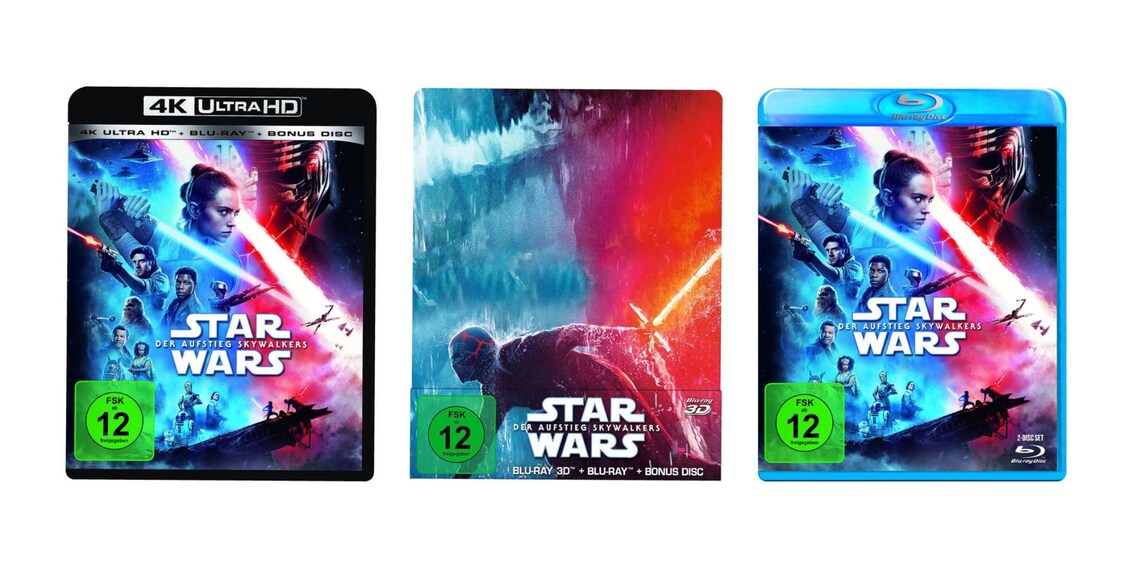 Star Wars: The Rise of Skywalker forever in your collection
All good things come to an end. The last episode of the saga in DVD, Blu-ray, Blu-ray 4K UHD or Blu-ray 3D format with additional bonus material is now available. And there are the Saga Boxes for all real fans who want to enjoy a Star Wars Marathon at home.
«The Saga will end. The story lives forever.»
4K UHD Blu-ray:
Blu-ray 3D Steelbook:
Blu-ray:
All Blu-ray versions come with an extra disc with plenty of bonus material. The two-hour making-of with exclusive behind-the-scenes insights – from the tricky filming in the desert and the origins of the Pasaana chase to the creation of the most diverse creatures with the help of VFX technology and make-up artists. But the highlight is a feature which shows you how Warwick Davis becomes an Ewok again.
DVD:
Saga Boxes:
The boxes with all nine Star Wars movies are available as DVD box, Blu-ray box or Blu-ray 4K UHD with 26 hours of bonus material.
Our review – what do you think?
Share you opinion
What do you think about the end of the Star Wars saga?
Wow, just brilliant.
I'm disappointed.
A bit over the top.
Good movie but not great compared to other Star Wars movies.
I'm only here to read the comments.
The competition has ended.
---
Almost anything can fascinate me, I'm always open to new experiences. That's why I'm in exactly the right place, discovering and exploring new and wonderful products and communities every single day.
---
---
These articles might also interest you