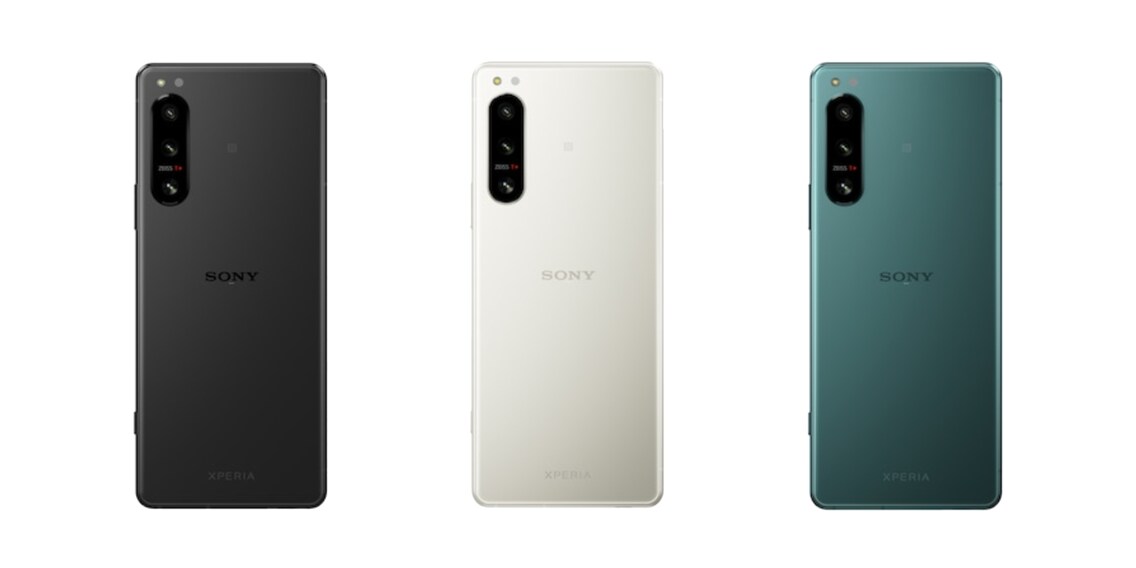 This article was translated automatically.
Sony Xperia 5 IV: Pre-order now and get free LinkBuds S headphones
Pre-order the new Sony Xperia 5 IV now and get a set of Sony LinkBuds S headphones in black for free. The promotion is valid until 4.10.22.
Are you looking for a compact smartphone that gives you enough room for creativity? Then the new Sony Xperia 5 IV could be ideal for you .
Specifications of the Sony Xperia 5 IV
The Sony Xperia 5 IV comes in the colours Black, Green and Ecru. A particular highlight is the triple camera with 12 megapixels nominal each as well as Zeiss coating, which not only ensures a high level of detail, but also gives everyone the opportunity to shoot photos or videos in 4K HDR quality. For high-quality selfies, a 12-megapixel front camera is built in, which has a larger sensor and pixel pitch than the previous model and offers improved quality in challenging lighting conditions.
The 6.1-inch Full HD+ OLED display offers a 21:9 aspect ratio and a refresh rate of 120 Hz. The Xperia 5 IV is equipped with a Snapdragon 8 Gen 1 processor as well as 8 GB of RAM and appears with 128 GB of storage capacity. The 3.5 mm audio jack, which has become the hallmark of the Xperia series, is retained.
With a battery capacity of 5000 mAh, the Xperia 5 IV offers enough power to let your daily creativity run free. And should the battery ever give up the ghost, it can be charged up to 50% within 30 minutes thanks to the quick-charge function. The device is also protected against water and dust.
Mobile phones
Sony Xperia 5 IV
128 GB, Black, 6.10 ", SIM + eSIM, 12 Mpx, 5G
Mobile phones
Sony Xperia 5 IV
128 GB, Green, 6.10 ", SIM + eSIM, 12 Mpx, 5G
Mobile phones
Sony Xperia 5 IV
128 GB, ecru, 6.10 ", SIM + eSIM, 12 Mpx, 5G
How to get your free LinkBuds S headphones
. 1. Buy the Sony Xperia 5 IV . Preorder the Sony Xperia 5 IV in Black, Green as well as Ecru at Digitec Galaxus now from 1.9. to 4.10.22 and get the LinkBuds S headphones in black from Sony for free. Purchases made before or after the promotion period cannot be taken into account for participation.
The first devices will be delivered in calendar week 38, according to Sony.
2. Register
From 5.9.22 until 6.11.22 at the latest, you can register your new device at www.sony.ch/promo/de/xperia5IV and upload proof of purchase. Incomplete registration or registration received after 6.11.22 will not be accepted. Each device (each IMEI number) can only participate once in the promotion. . 3. Receive LinkBuds S from Sony . After successful verification of the customer data, the Sony LinkBudsS in black will be sent to you at the postal address provided in Switzerland.
Shortened conditions of participation
. The promoter of the Sony Xperia 5 IV Promotion is Sony Europe B.V., Hoofddorp, Schlieren/Switzerland Branch located at Wiesenstrasse 5, 8952 Schlieren, Switzerland (hereinafter referred to as "Sony").
As part of the Sony Xperia 5 IV promotion, participants will receive a free set of LinkBuds S in black with the purchase of a Sony Xperia 5 IV in black, green and ecru.
This promotion is valid exclusively with the purchase of any of the three Xperia 5 IV smartphone models at Digitec Galaxus between 1.9 and 4.10.22 Sony will not accept applications for smartphone models purchased from third parties (unauthorised retailers). Companies, organisations and institutions as well as distribution partners are excluded from this promotion. .
Only one participating smartphone model can be included in each application. Each customer is limited to a maximum of two applications. That means a maximum of two applications can be claimed per customer.
If the proof of purchase indicates an order date other than the date of issue of the proof of purchase (invoice date), the order date will be taken as the purchase date. Registrations with a purchase date outside the promotional period will not be taken into account.
To receive the LinkBuds S, you must register online at www.sony.ch/promo/de/xperia5IV no later than 11/6/22 at 11:59pm. No applications will be accepted after this date. A My Sony account is required to register. For successful verification of registration, a photo of the smartphone purchased with the IMEI number and a copy of the original purchase receipt with the name of the retailer, the product name of the smartphone and the date of purchase must be attached electronically. The instructions will be sent to you by e-mail.
Eligible to participate are end customers (customers who purchase products for their own use) with
domicile in Switzerland.
After successful registration for the promotion, the headphones will be sent to the participants after a minimum of 30 and a maximum of 60 days. The shipment of the headphones is only possible to an address in Switzerland.
Sony reserves the right to reject any claim and/or cancel the shipment of the headphones if it suspects that an erroneous or fraudulent claim has been made or if a claim has been made that does not comply with these terms and conditions. In addition, Sony may
suspend or discontinue the Promotion at any time without notice. The promotion is subject to availability of smartphone models and headphones. Sony reserves the right to substitute offers for products or services as required. .
There are no credit or cashback options.
For full terms and conditions, please see
www.sony.ch/promo/de/xperia5IV
Individual offers for business customers
. You need a larger quantity and want a quote? Then you will find here all the necessary information. Enquiries about product advice, project support and other requests can be made via our Helpcenter.
---



My passion for the world of technology first sparked when I held the controller of my Super Nintendo in my childish hands. As time went on, my hands (luckily) got bigger and technology got more advanced and interesting. Since then, all the technological gadgets won't let me go. Especially smartphones. 
---
---
These articles might also interest you
Skeleton Loader

Skeleton Loader

Skeleton Loader

Skeleton Loader

Skeleton Loader

Skeleton Loader