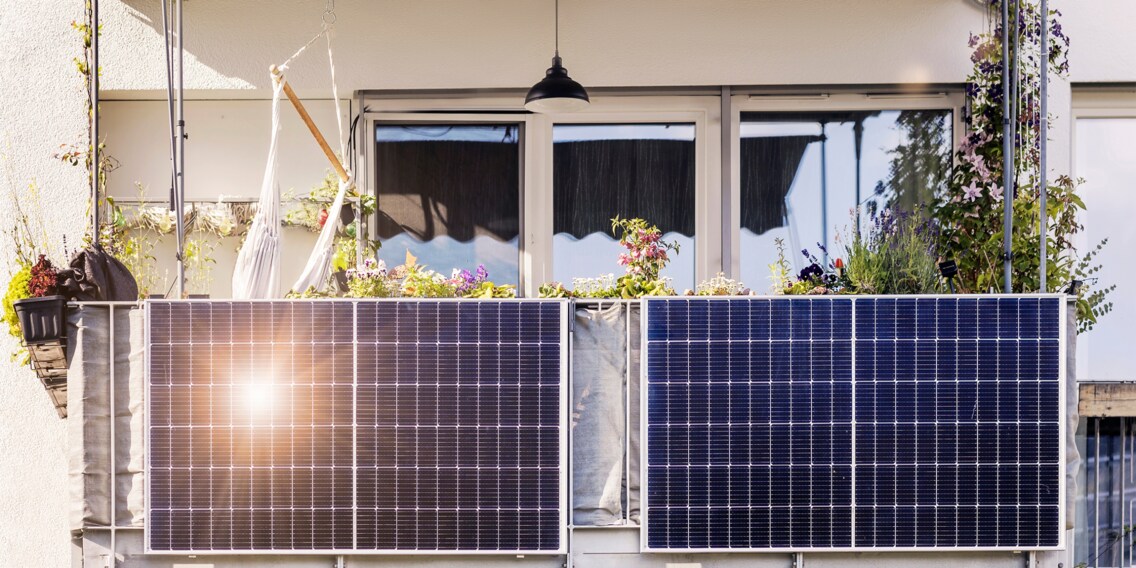 Solar power for your balcony: Home power plants from Paua
Translation:
machine translated
As a thrifty person, you've probably already thought about a solar system - but didn't dare to implement it? Our new Paua models are easy to install on your balcony. And they even qualify for a subsidy.
More than ever an electrifying topic: saving electricity. If you are also concerned about current energy prices and would like to reduce consumption and expenses, it is worth taking a look at our shop. Because with the new Paua balcony power plants you can generate your own electricity and, according to the manufacturer, save up to 20 per cent on energy costs - depending on the total consumption in your household and the amount of sunlight on your balcony. The 2.6-kilogram panels are available as a set of two or four.
What Paua particularly advertises: the easy installation of the system. Due to the maximum output power of 600 watts, you should even be able to install it without an electrician. The panels are attached with the included stainless steel cable ties. Unfortunately, the video does not show whether it is really as simple as promised - so you will have to find out for yourself.
An average of 425 kWh of electricity is generated
. The five-metre cable should be sufficient for the plug to be inserted into a standard household (outdoor) socket. That's all it takes to put the balcony power plant into operation. Plug and Play is the name of this type of system, which is ready for use with minimal effort. After that, the sun and the panels work for you: "In total, a small solar system can thus generate around 250 kWh of electricity a year when facing north and over 600 kWh when facing south, or around 425 kWh on average," promises Paua. According to the manufacturer, your system will pay for itself after about four to five years. Or even sooner, if electricity prices continue to rise.
No electricity storage function due to balcony system
Since the smart plug connects to your Wi-Fi, you can also check the benefits of your power plant with the accompanying app. It shows you how much electricity has been produced, how much energy costs have been saved and how much less CO2 has been emitted.
It's important to know: You must consume the electricity produced by a balcony solar system yourself. Plug-and-play systems cannot send it back to the grid: This means that if the system produces more electricity than you can currently consume, it is virtually lost. In the configuration presented here, they do not store energy - for that you would need an additional storage facility. The solar panel on the balcony will provide you with a lot of electricity when the sun is shining. And that's exactly when you should use it, for example by running the dishwasher or washing machine at that time. You can find out more about how it works and about the legal situation for installing it here: .
Especially nice for those who want to become solar system owners in Zurich or Graubünden: The installation of these Paua power plants and also many other systems is eligible for subsidies here for customers of ewz (Elektrizitätswerk der Stadt Zürich). You can find more info here.
Titelbild: Shutterstock
---



Cat lady and coffee lover from up north. Always on the lookout for «News and Trends».
---
---
---