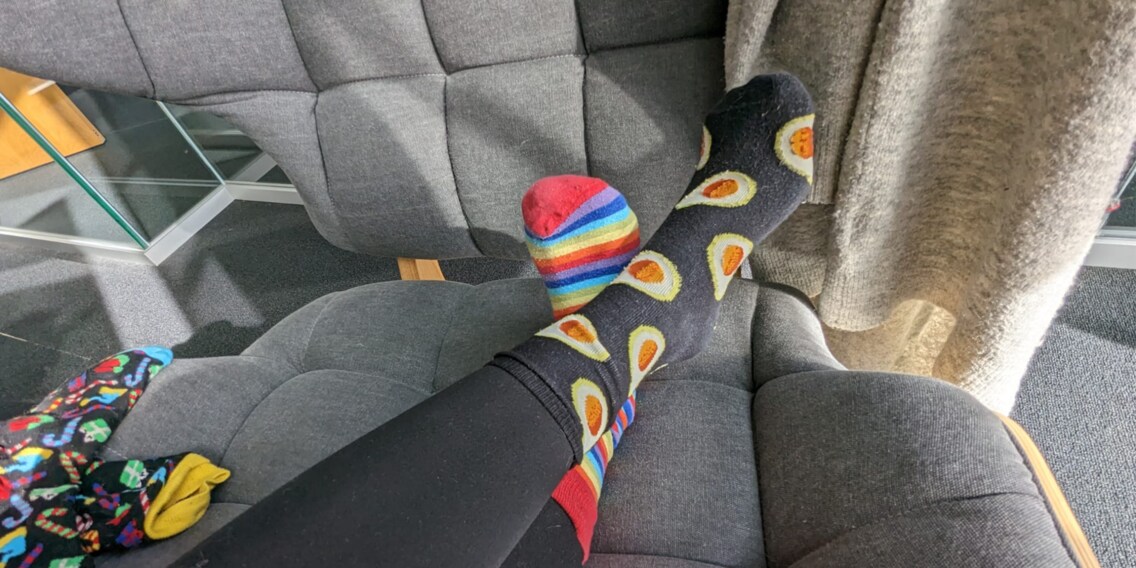 Show us your feet - especially if they're in fancy socks by Dilly
Translation:
machine translated
Eye bling, carrot mix or young flair? The new creations from Dillysocks are new in the shop and leave nothing to be desired.
Almost all my socks are singles. When I open the drawer, I see countless individual pieces that have deformed over time into a blue-black mass. Because I feel sorting pairs is a waste of my life. So I don't. And while I'm often stocking happy in the summer, in the winter I lose control of my sock monster in the drawer.
Do you feel the same way? If you're like me and want to revolutionise your sock handling, the new launches from Dillysocks could be a real gamechanger for you: With their flashy colours and motifs, the styles in the current collection will immediately catch your eye. And they make it easier for you to search (desperately) for the second pair while the first one is already on its way.
It's more fun to look for corals, tiger stripes or marathon runners than for the 278th black or white sock. Bold thesis - but maybe the colourful designs will even sweeten up one or two grey Monday mornings. And maybe you'll even find your own personal lucky sock that will be your faithful companion on special days or occasions.
The Dillysocks not only convince with their visual richness. The brand also seems to be creative when it comes to sustainability: it relies exclusively on biodegradable packaging elements. The bag is made of polylactic acid and the label of recycled paper. Even the sock hook is compostable, according to the manufacturer, as it is made from wood waste and enzymes.
By the way, the whole thing is produced in Portugal. The socks themselves are mostly made of organic cotton - but the exact percentage depends on the styles. For the realisation of particularly creative patterns, polyamide and elastane would inevitably come into play, as the manufacturers admit. However, the Oeko-Tex® 100 Standard certificate guarantees that the products are free of harmful substances. So you can wear Dillys socks with a clear conscience.
Did you know? Unsold socks are sewn into Dilly Monkeys in various foundations.
---



Cat lady and coffee lover from up north. Always on the lookout for «News and Trends».
---
---