Share your eBooks with «tolino family sharing»
Tolino now allows you to read eBooks at the same time as others. Up to six family members can share their books with each other using their individual tolino bookseller accounts.
So far you couldn't share your eBooks? Now you can – with tolino. I like reading books that my family and friends recommend to me. Now I can pass on my favourite books to my loved ones once I've finished them – or even read them at the same time.
How does tolino family sharing work?
Every member needs an account with a tolino bookseller such as Orell Füssli, for instance. If you're the first of your family, you can invite other members. This works on the tolino eReader as well as with the tolino app or the tolino web reader. In other words: not everyone needs their own tolino eReader, as it's possible to read and share books on the tolino app. Any book? Almost any book that you purchased from a tolino bookseller.
Who's in your tolino family?
Tolino family sharing is limited to people who live together. You live with your partner? Share your eBooks with him or her and read the same books at the same time. You have kids that still live at home? Then there will be no more arguing about who gets to read a book first. Now everyone can read the same book at the same time.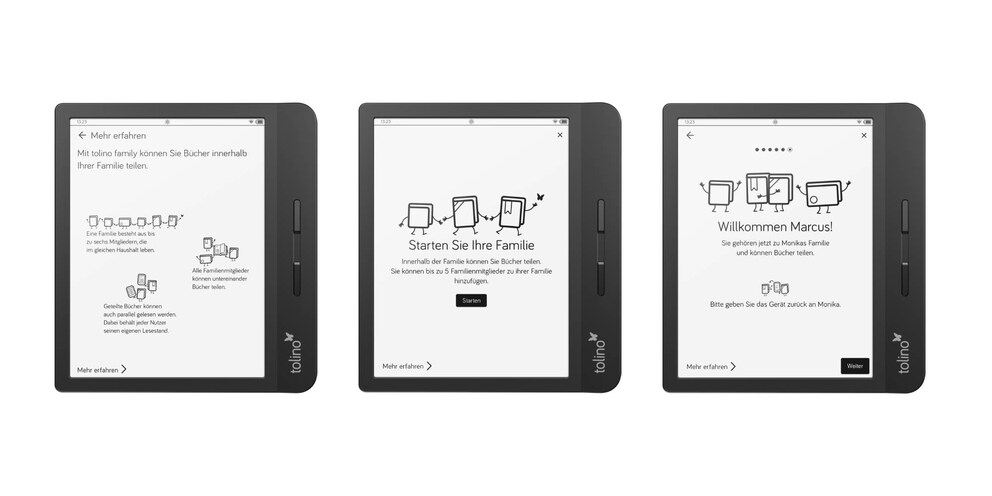 Good to know
Your family members can't access your account or view your details.
All family members have equal rights, there is no admin function.
You can only be a member of one family and changing families is only possible every 12 months.
A family can have up to six tolino users from the same household.
The majority of all eBooks are available for family sharing and are marked accordingly in the shop.
Even eBooks that were purchased earlier can be shared.
Don't have an eReader yet?
Check out our tolino range. We offer tolino eReader ranging from handy 6-inch entry-level models to the large 8-inch high-end devices.
---
Almost anything can fascinate me, I'm always open to new experiences. That's why I'm in exactly the right place, discovering and exploring new and wonderful products and communities every single day.
---
---
---
These articles might also interest you