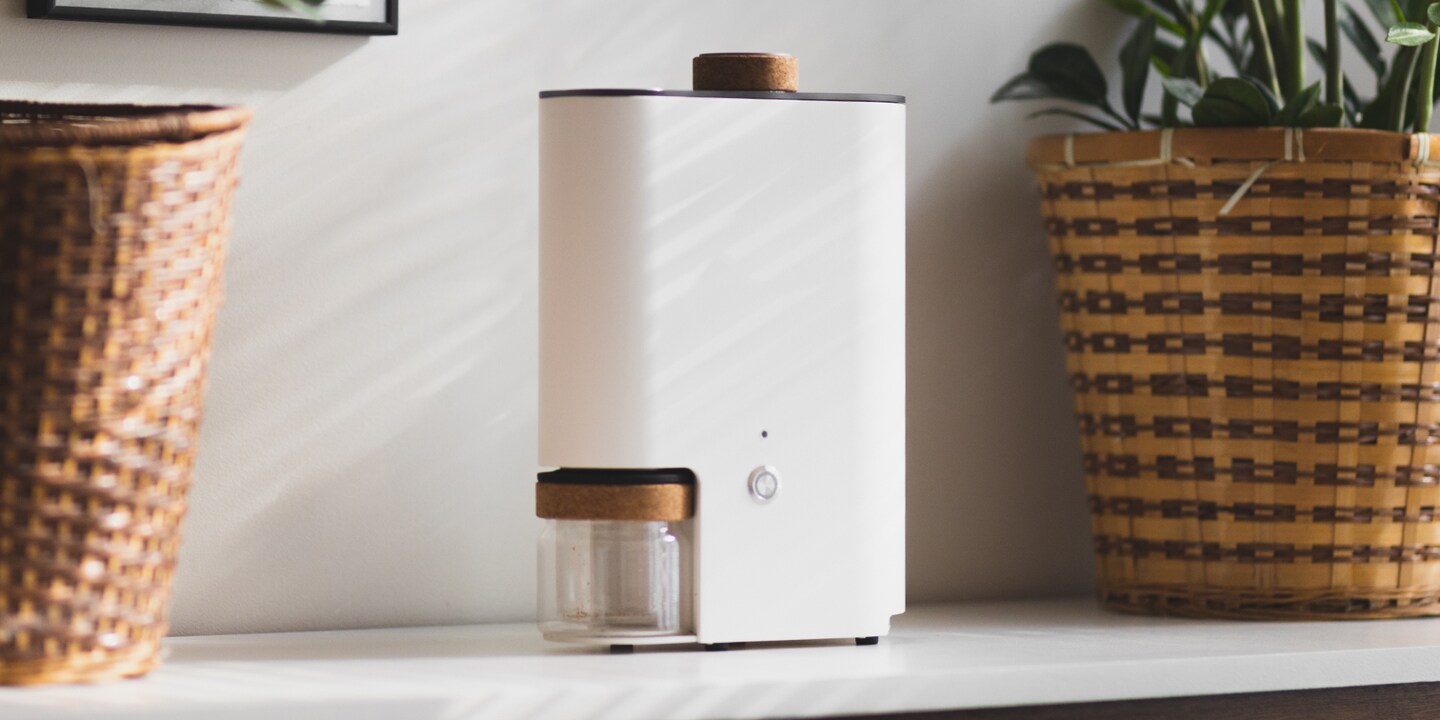 Roast coffee beans according to your taste with Ikawa
With the innovative coffee roaster by Ikawa, you can roast your coffee beans whenever you want. Configure and save your different roasting profiles with the Ikawa app and enjoy freshly roasted coffee at home within minutes. Ikawa's design is also quite something.
The «Smart Home Roaster» by Ikawa allows you to be in charge of roasting your coffee. The product enables a new way of enjoying coffee by allowing you to roast green coffee yourself according to your individual preferences. In other words, the machine offers enthusiasts the same options that were previously only available to professional roasters. With the app, you're in charge of temperature and aeration. Entry-level users can use the pre-programmed roasting profiles, which can be adapted to cater for your taste.
Specifications
Capacity for 60 grams of green coffee beans
Temperature control, proportional, integral, differential (PID)
Temperature sensor PT1000, located below the roasting chamber where it is most protected, measures the input air temperature
Integrated cyclone for chaff separation and uniform airflow
Brushless fan motor
Ikawa app for control
The Ikawa app
With the app, you can create and save precise roasting profiles. The profiles are backed up in the cloud so they don't get lost. Optimised roasting profiles are already available for the coffee beans included in the tasting set.
Further links
About the manufacturer Ikawa
Ikawa means coffee in the Kirundi language. Kirundi is a language spoken in the African country of Burundi. The country relies heavily on coffee exports and Andrew, the founder of Ikawa Coffee, got the idea to allow everyone to roast their own coffee from fresh beans through his parents who were in the coffee business there.
The company is based in London, England. The roasters are manufactured by hand in London in small quantities.
Green coffee
The product comes with a tasting set, so you can immediately have your first experience with the coffee roaster. And what happens when you run out of coffee beans? Watch this space – we'll be adding green coffee to our range soon. We expect to have the first green coffee straight from the farm available in our online store from April. We'll extend the selection according to demand.
Presale
Starting now, you can pre-order the Ikawa Coffee Roaster. As the product is manufactured in London in small quantities, a delivery time of a few weeks is expected.
We look forward to hearing what you think in the comments. Thanks for sharing your opinion! May your homes be filled with the scent of freshly roasted coffee soon.
---

Cool: Creating interfaces between the real world and the world of pure information. Not cool: Driving by car to the mall to shop. My life happens online, the information age is where I feel at home.
---
---
---
---
These articles might also interest you
Skeleton Loader

Skeleton Loader

Skeleton Loader

Skeleton Loader

Skeleton Loader

Skeleton Loader