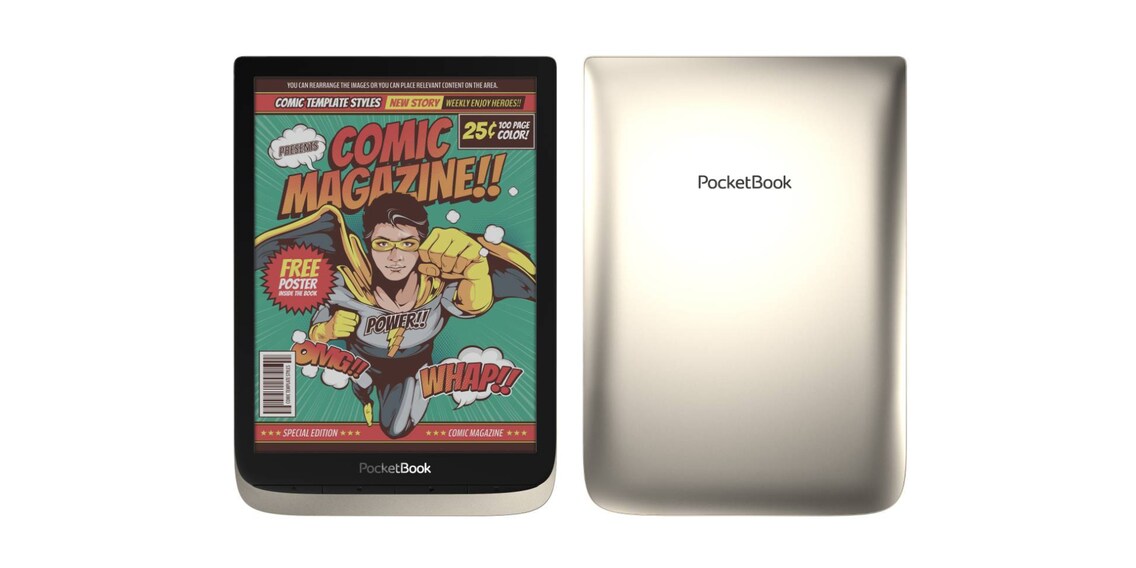 PocketBook InkPad Color – here comes the big eReader with colour screen
After PocketBook launched their eReader with 6'' colour screen last year, many customers have been asking for a larger model that features a colour screen. Now it's here: the PocketBook InkPad Color with 7.8'' screen.
Last year's release of the PocketBook Color 6'' was a highlight. It had been a long time since the launch of a decent eReader with a colour screen.
You're wondering why an eReader would need a colour screen? After all, books aren't written in colourful letters. That's true, of course. But have you considered comics, cookbooks, magazines, or trade journals with graphics? Reading these in colour is surely much more fun than in black and white.
With the new InkPad Color, reading is even more fun. PocketBook has realised that colourful content is a lot nicer to look at on a larger screen. Let me introduce you to PocketBook's new model.
The key specifications at a glance
Screen type: 7.8-inch, E Ink new Kaleido colour screen
Color depth: 16 grayscale / 4096 colour
Point density: 300 dpi grayscale / 100 dpi colour
Pixel resolution: 1404 × 1872 pixel grayscale / 468 × 624 colour
Display functions: frontlight, touchscreen, position sensor, sleep cover function
Memory capacity: 16 GB
eReader functions: read aloud function, music & audiobook player, text-to-speech, library, dictionaries, calculator, notes, RSS news, Klondike, chess, scribble, sudoku, Onleihe
Covers to go with your new eReader
If you're looking for an eReader without a colour screen, check out these models by PocketBook.
---
Almost anything can fascinate me, I'm always open to new experiences. That's why I'm in exactly the right place, discovering and exploring new and wonderful products and communities every single day.
---
---
These articles might also interest you