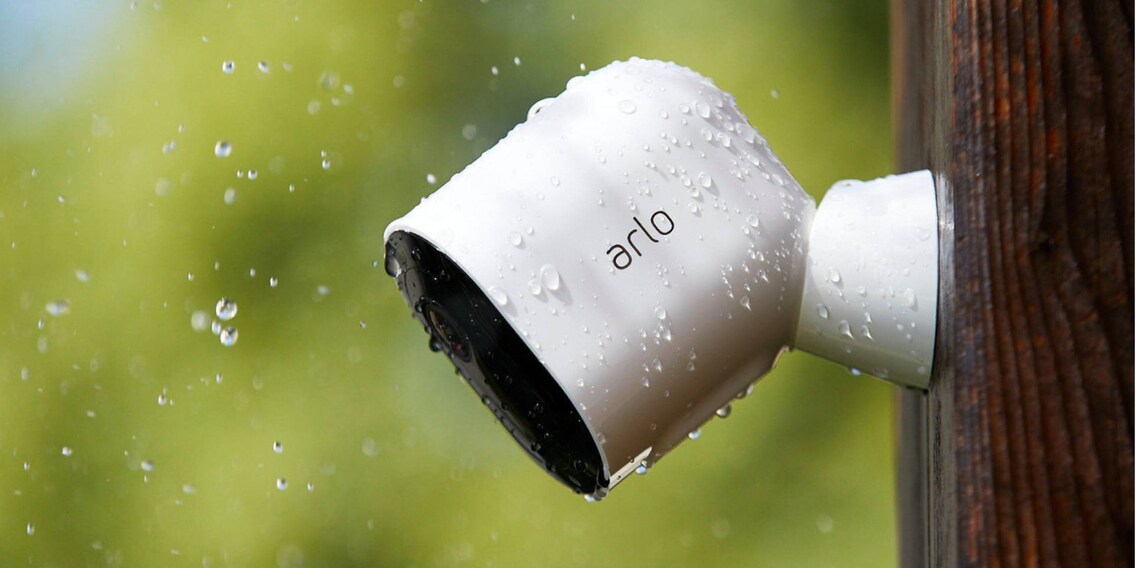 Order now and win the new security camera Arlo Pro 3

The Arlo Pro 3 enters the autumn stage as the successor to the popular Arlo Pro 2 security camera. This 2K wire-free security camera with spotlight and siren, colour night vision function and a 160° viewing angle is now available from us. Looking for a single camera or a set of up to four? We have it all.
It was officially announced by Arlo at the end of September and is now available from us: a reliable security camera that's easy to use and lets you view videos directly on your smartphone. When it comes to features and price, the new Arlo Pro 3 is between the Arlo Pro 2 and the Arlo Ultra. That's a solid middle ground.
We're giving away an Arlo Pro 3 set of 4 and an Arlo Pro 3 set of 2. Scroll to the very bottom of this page to see the prize draw.
Time to look at the features
Enlarged, detailed and coloured objects are clearly visible thanks to 2K HDR.
Whatever the weather: the Arlo Pro 3 has a weatherproof housing and withstands any weather.
The 160° viewing angle captures everything.
The integrated spotlight can be activated manually or automatically with motion.
The built-in intelligent siren can also be triggered automatically or manually.
The world is no longer just black and white: night vision images are provided in clear colours.
Wireless, easy and quick to install.
Mounted anywhere thanks to magnetic wall bracket; rechargeable with a magnetic charging cable.
Good sound quality with two-way audio.
Ensures compatibility, from Amazon Alexa to Google Assistant.
The scope of delivery includes the respective cameras and the base station, rechargeable batteries, a magnetic charging cable and a network cable, a wall mount incl. screws as well as a manual and stickers.
Which one's best?
The best possible overview is achieved by comparing the three generations. Many basic features are identical, but the resolution and the horizontal angle differ.
| | Arlo Pro 3 | Arlo Pro 2 | Arlo Ultra |
| --- | --- | --- | --- |
| Max. resolution | 2560 x 1440 | 1920 x 1080 | 3840 x 2160 |
| Viewing angle | 160° | 130° | 180° |
| Two-way audio | Yes | Yes | Yes |
| Night vision | Yes | Yes | Yes |
| Motion detector | Yes | Yes | Yes |
| Application area | Indoor and outdoor | Indoor and outdoor | Indoor and outdoor |
| Compatibility | Amazon Alexa, Google Assistant, Apple Watch | Amazon Alexa, Google Assistant, Apple HomeKit | Amazon Alexa, Google Assistant, Apple Watch, Apple HomeKit |
See the complete comparison here
What about compatibility?
The Pro 3 works with Google Home, sends notifications to your Apple Watch and is compatible with Amazon Alexa, too: «Alexa, show me the camera 2».
Within the Arlo family, the compatibility between the different generations is guaranteed as follows: the Arlo Pro 3 is compatible with older Pro/Pro2 base stations (and can therefore be added to these cameras in the older ecosystem), but only in 1080p quality. Therefore, when purchasing a Pro 3 accessory camera, it makes most sense to get a SmartHub, too, to make use of the 2K quality. The base stations of the older models work with the Pro 3 add-on camera. However, older cameras (Pro, Pro 2, Ultra) can also be connected to an Arlo Pro 3.
As far as the further equipment is concerned, all accessories of the Arlo Ultra work with the Arlo Pro 3.
Arlo Arlo Ultra & Pro 3 8 ft. Indoor Magnetic Charging Cable
Network camera accessories, Power cables
Arlo Smart App
The trial version of the app is free for the first three months. After this, you'll have to choose a smart plan to continue accessing cloud recordings, notifications and other features. Without a smart plan, however, live streaming, alerts, auto zoom & track, and 2-way audio is still available.
The app lets you create custom activity zones to focus on important areas and receive notifications whenever something happens. Arlo Smart can detect the difference between a person, an animal or a vehicle and stores recorded video for up to 30 days.
Your chance to win!
Test the new Pro 3 and form your own opinion. We're giving away an Arlo Pro 3 set of 4 and an Arlo Pro 3 set of 2. To participate in the raffle, you must be logged in with your digitec account and click on the «Participate» button. Closing date is 4 November 2019.
Prize draw: Arlo Pro 3 camera set
Do you want to win one of four Arlo Pro 3 sets?
The competition has ended.
Update 11/18/2019
And the winner is: Mamattig / Radulph / SNX / Kasben
The lucky winners were drawn and informed by e-mail. We are looking forward to the impressions and thank you for your participation in the competition :)
---



Passionate about football – beer in hand after a win. Love cycling and am a dedicated dog-lover. I speak my mind, love interacting with others and am always excited to learn new things.
---
---
These articles might also interest you