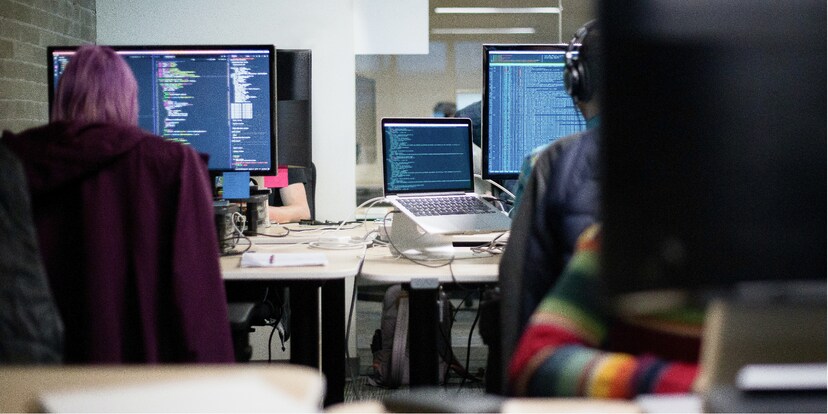 Monitor, headset and more – what to look out for
With the right peripheral devices to suit your needs, you can transform your computer into a modern workstation. Here's a quick guide on what to look out for.
Peripherals are split into three categories based on their main function: input devices, output devices and processing devices. Whereas a headset's integrated microphone makes it both an output and an input device, memory cards and external CD drives are examples of processing devices. Here, we're focusing on the devices that work alongside your computer to create a modern workstation. This includes your monitor, headset, webcam, mouse and keyboard.
Monitor
One look at the filter options in our shop shows the wide range of monitors on the market. Besides brand and price, the most important aspects of buying monitors are screen diagonal, pixel resolution and adjustment options. The standard – relevant for anyone who needs to source multiple identical monitors on behalf of their company – has the following attributes:
24-inch screen diagonal.
1920 × 1080 pixel resolution (Full HD).
Tiltable.
With a normal distance of 60-100 cm between the monitor and your eyes, the 24-inch screen produces a pleasant image familiar to most users. Depending on sector and activity, two 24-inch monitors can also be a sensible option to get the most out of your workstation. Full HD resolution is standard in most industries and sufficient for normal office use. A higher resolution primarily makes financial sense where it will add real value due to the user's activity, such as in graphic design jobs. An important and unfortunately often forgotten aspect of sourcing monitors is the different settings available. When you're buying a screen, make sure it's tiltable. This feature costs relatively little and enables ergonomic work – something that's becoming ever more important. Here's a small selection of our most popular monitors:
Keyboard and mouse
It's up to you whether you'd rather work with a USB keyboard and mouse or keep things wireless. Personal preferences on ergonomic work can also play an important role here. Depending on your company's size and procurement process, it can make sense for employees to source their own input devices according to their individual preferences. When you're sourcing a mouse, it's generally important to make sure it feels good to hold. The relevant factors here are size and weight. Personally, I like working with a big, heavy mouse. It sits well in my hand and its relatively heavier weight enables me to navigate more accurately. If you're left-handed, a left-handed mouse is recommended. I advise a vertical mouse for any carpal tunnel or tendon issues in your wrist. Vertical mice support a natural forearm and wrist position and can add real value for (sensitive) office workers. The ergonomics of a keyboard can also be boosted with wrist rests and/or slanted keys. Both features help to avoid your wrist buckling too much. Otherwise, the technology in the keyboard is what's most important. While I'm sticking with my mechanical keyboard because I really like how the resistance of the keys feels, some of my colleagues swear by a non-mechanical keyboard.
Office headset
Office headsets are primarily used for frequent phone calls or virtual meetings. The first thing to consider when sourcing one is whether you're a «desk warrior» or a «corridor warrior». As a «desk warrior», you juggle calls and meetings in front of your computer and can confidently rely on a generally more affordable wired headset. As a «corridor warrior», you like to move when you're on a call, so a wireless headset is indispensable for you. Aside from connection technology, the fit and number of ear pads are important parameters when you're looking for a headset. In terms of fit, you can choose from «in-ear», «on-ear» or «over-ear» models according to your personal preference. The number of ear pads depends on whether you want to and can listen through speakers for both ears (binaural) or whether you need to have a free ear (monaural) to not be completely cut off from the outside world. As many companies now allow their employees to listen to music while they're working, higher-priced models from most manufacturers combine the best of both worlds: communication and entertainment. Whether or not you listen to music while you work, I recommend not scrimping on your headset. A solid headset is worth its weight in gold in this era of Microsoft Teams and Zoom, and the differences between different price brackets are comparatively small. Our business customers' current favourite headsets are:
Webcam
The increasing importance of video conferences in our everyday lives makes webcams ever more relevant. As laptops now have an integrated camera as standard – all you need for video conferences – peripheral webcams are mainly relevant to those of us who work at a PC (or workstation) or need a particularly high image resolution for their job. Although there are differences in image resolution and software between individual models, webcams generally always do the same job: capture your image and send it via the web to the person you're talking to. My colleague Nico outlines everything you need for virtual and hybrid meetings in the article below:
For a personal consultation, send us an e-mail at b2b@digitecgalaxus.ch or call 044 575 96 00. Our Help Centre is also happy to help.
---

From small businesses to large companies, I've been able to get to know all facets of B2B. Now I support our customers in choosing the right equipment for their workplaces. When I've had enough of that, I relax with good food and wine or dive into virtual reality for a few hours.
---
---
---
---