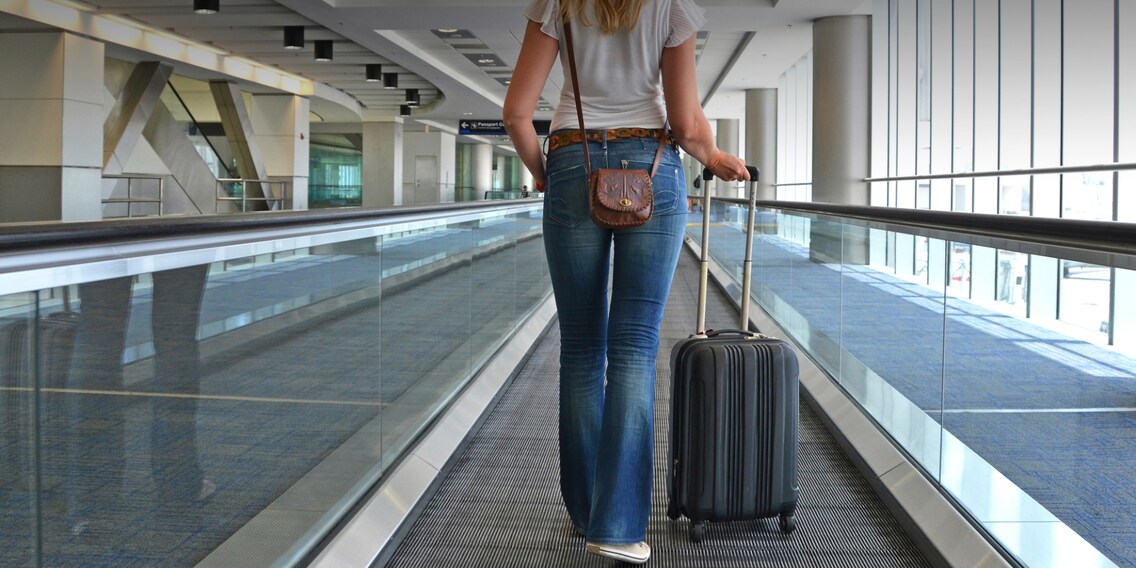 I'll see you in a while – everything you need for your weekend away
Amsterdam, Berlin, Rome, Paris or maybe London? Just a few clicks and francs could get you there, not least because there are several low-cost airlines. Weekend trips are a great way to recharge your batteries and discover a new place at the same time. All you need for a short trip away is hand luggage, a small rucksack for day trips, sunglasses, a travel guide and a camera – and off you go!
Suitcases and bags that work as hand luggage
You won't need more than hand luggage for a weekend trip: fresh socks, underwear, a second jumper, a rain jacket just in case, toilet bag – that's it. Avoid standing in a queue at check-in and travel light. Here's some important information about hand luggage regulations:
Suitcases and bags that can be taken on board as hand luggage usually have a capacity of 30 to 70 litres.
There are hard-sided and soft-sided suitcases. Hard-sided luggage is more robust, but soft-sided luggage is often lighter and easier to store away. A duffle bag will also do if you want to keep it simple.
SWISS regulations allow hand luggage that weighs no more than 8 kg and has dimensions of maximal 55x40x23 cm.
Most airlines, as SWISS for example, allow a handbag, laptop bag or shoulder bag (max. 40 x 30 x 10 cm) in addition to your hand luggage.
When packing your toilet bag, remember that any liquids (i.e. creams, toothpaste, gels, shampoo) need to be in a container with a maximum capacity of 100 ml. Also make sure that you're not carrying any pointed items such as small scissors, tweezers or razor blades with you. Any liquids must be kept in a resealable and transparent plastic bag with a maximum capacity of 1 litre.
You can find all details on hand luggage regulations on the webpage of the airline you're flying with.
See all suitcases that are suitable as hand luggage
Rucksacks, hip bags and everything else you need for your city trip
Most airlines allow you to take a handbag, laptop bag or shoulder bag on board in addition to your hand luggage. A rucksack or handbag is very handy to carry the things you need for a day in the city.
Only pack as little weight as possible when it comes to exploring the city of your choice. All you need are a pair of sunglasses, a travel guide, a camera, your purse and maybe headphones for a bit of music here and there.
Make sure that your rucksack sit comfortably on your shoulders and can be closed completely and securely, making it difficult for potential thieves to get at your valuables.
Hip bags are great to store your money and phone in an easy and safe way.
Leave the heavy travel guide at the hotel. Most tourist information centres have a wide range of free maps and information leaflets.
Another tip: Discovering a new city by bike is lots of fun. It's also cheaper than using public transport, faster in getting from A to B and a good way to add a bit of exercise to your holiday. Many big cities have large and good value rent-a-bike networks.
See all backpacks // See all hip bags // See all wallets + purses
This might also interest you (in German)
Skeleton Loader

Skeleton Loader

Skeleton Loader

Skeleton Loader

Skeleton Loader

Skeleton Loader

Skeleton Loader

Skeleton Loader
---
I'm not a great cook, struggle with home decorating and am incapable of properly assembling IKEA furniture. So at Galaxus, I'm a marketing manager in charge of sports. And sports is also what I love doing best in my spare time: cycling, tennis, skiing, swimming or working out at the gym. I'm also passionate about football and a big Bayern Munich supporter. 
---
These articles might also interest you
Skeleton Loader

Skeleton Loader

Skeleton Loader

Skeleton Loader

Skeleton Loader

Skeleton Loader