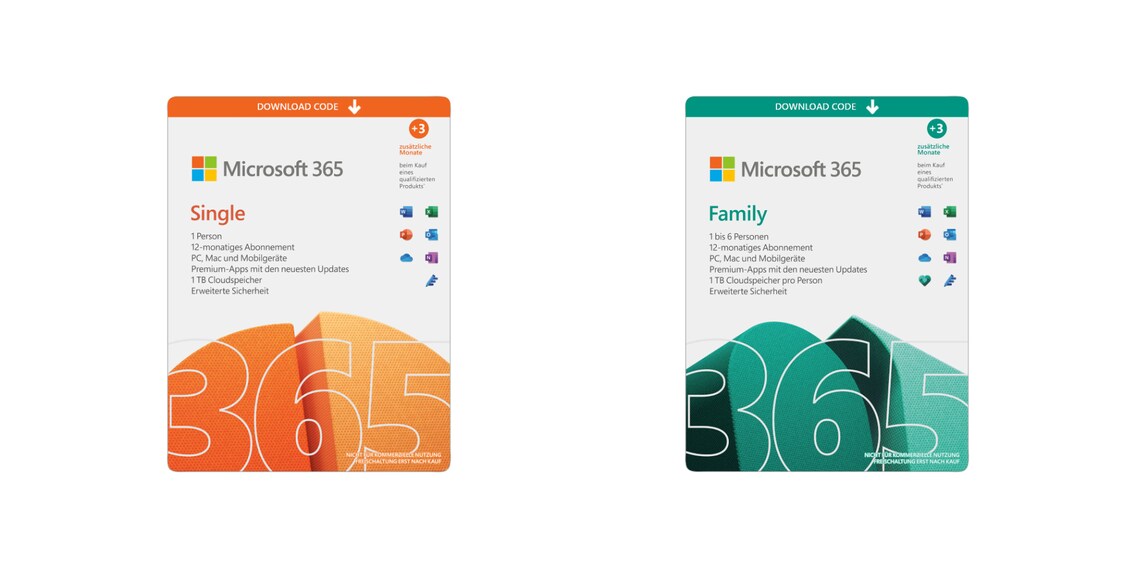 Get an additional 3 months of runtime for Microsoft 365

Buy any of the following Microsoft 365 products for your notebook, PC, smartphone, or tablet, and you'll get an additional 3 months of runtime on your subscription.
Looking to buy a notebook, PC, smartphone or tablet?
Then seize the day and get a new Microsoft 365 membership or extend your existing subscription to get 3 months for free.
The important stuff
For example, have you just chosen a notebook or smartphone and would now like to get yourself the 3-month licence extension?

Do the following:
Add a notebook, PC, smartphone or tablet of your choice to the shopping cart.
On top of that, get one of the eligible Microsoft 365 licences.
(Listed further below)
Then add the matching 3-month extension.
(Listed even further below)
You'll now automatically be compensated for the 3-month extension, so you can
proceed normally.
If the voucher doesn't appear automatically in your shopping cart, you can still enter the following code manually during the order process: Office%.
The following products are eligible:
ESD (Electronic Software Delivery)
These products are so-called ESD (Electronic Software Delivery) items. They're delivered and displayed directly into your user account, rather than as a physical box.
You can find out more in the following article:
Additional 3-month extension
Please note that if you purchase a Microsoft 365 Family licence, for example, you must also add the additional 3-month extension of the Family licence to your shopping cart.
---



To me, a computer is so much more than just a work instrument. It's a friend in need!

Mine is fast to deliver facts when I'm philosophising about random stuff such as quantum or astrophysics and happy to tap into algorithms to provide me with a suggestion for the best and closest pizza. 
---
---
---
These articles might also interest you