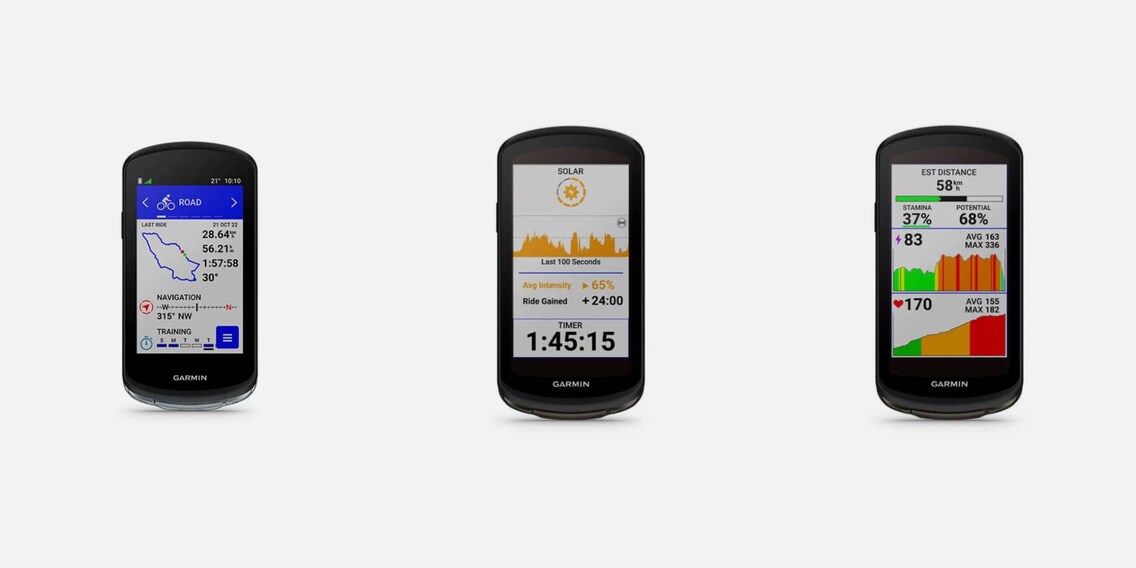 This article was translated automatically.
Garmin presents the Edge 1040 Solar
Garmin has introduced their latest velcomputer with the Edge 1040 and Edge 1040 Solar. With the solar-powered Velcomputer Edge 1040 Solar you are up to 100 hours on the road without charging it.
The new Velocomputer brings a few exciting innovations. I'll show you the most important ones here.
Battery life
Garmin promises a battery life of up to 35 hours for the Edge 1040. With the solar version even up to 45 hours. If you operate the solar version in energy-saving mode, a battery life of 100 hours should be possible.
Hardware
At first glance, little has changed in the hardware. The new Edge 1040 has the same size and feel as the Edge 1030 Plus. The only striking difference: The classic holder of the Garmin Velocomputer is now no longer made of plastic, but of metal and should be much more robust. A small but very positive difference, the new Velocomputer now comes with USB-C port. Quasi in time with the decision of the EU that in the future most electronic devices must have the USB-C port for charging.
Software
In the software basically nothing has changed, Garmin relies here on the same software as in the previous model. For the frequent riders exciting, the new Edge 1040 runs new with multi-frequency reception. The new velocomputer can receive GPS, Glonass and Galileo simultaneously. This should help in challenging environments such as mountain valleys or dense forest a more accurate positioning.
New functions
With the new devices of course also come new features and these have it especially for performance-oriented athletes in itself. For example, the Edge 1040 shows you your stamina data, so the device can estimate how much power you have left. So you can optimize your energy consumption during your activity. With your cycling ability, the device shows you your strengths on the bike, compares them with the requirements of a route, so you can estimate what is coming. The Power Guide finds the optimal power input for your route and its elevation profile.
You can find all Garmin velocomputers here.
---

Hello, I'm Nicolas. I've been into sports since I was a kid. Be it endurance sports or team sports, I've tried just about everything. As Category Business Manager, I give my all every day to offer you an exciting and up-to-date range of sports. Therefore I put many products through their paces before I put them in our online shop. My goal here? To always discover new things and to improve on the tried and tested! 
---
---
These articles might also interest you
Skeleton Loader

Skeleton Loader

Skeleton Loader

Skeleton Loader

Skeleton Loader

Skeleton Loader