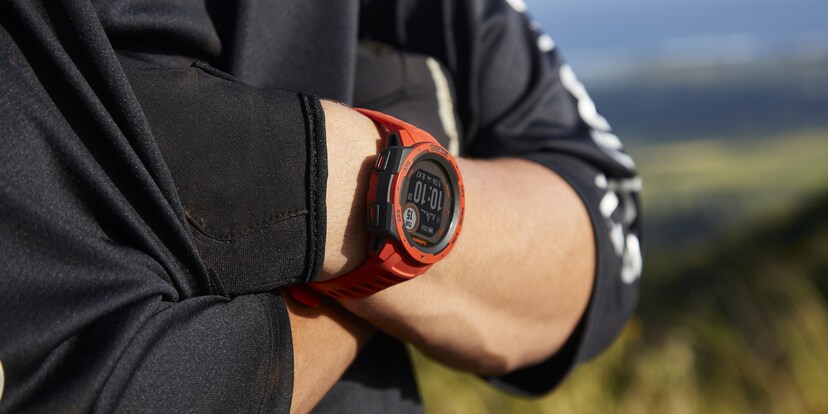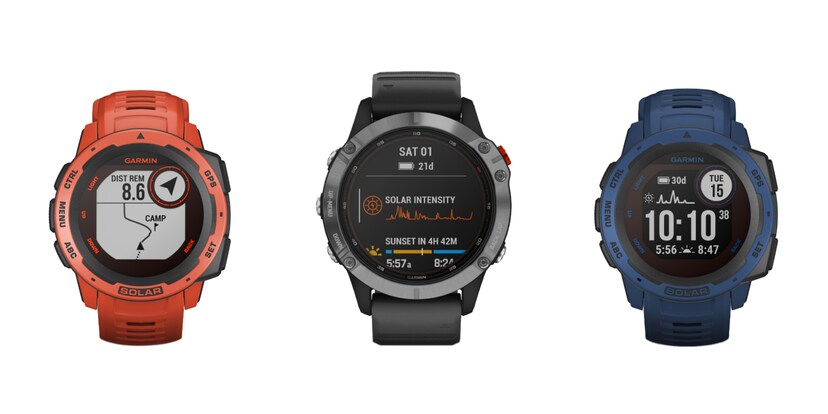 Garmin is the undisputed trailblazer when it comes to solar smartwatches, and the new solar models live up to their great reputation.
A little under a year after the introduction of the first Garmin smartwatch with solar tech, the company now introduces additional models. The Fenix 6 Solar, Fenix 6S Solar and Instinct Solar. The technology has proven its worth – and is getting a lot cheaper.
Exciting smartwatch innovations and functions appear each month. When Garmin launched the Fenix 6X Pro Solar, the first solar smartwatch, in September 2019, it was a revolution. The excitement for the new technology reached fever pitch. All the same, some people needed some time to digest the sales price – at over one thousand francs.
The euphoria over smartwatches with solar charging technology persists. Not having to charge all the time and enjoying the boost of natural solar power is a great thing. Garmin now presents the Fenix 6 and 6S Solar, as well as the – much more affordable – Instinct Solar. Each model has new sports functions (surfing, climbing and mountain biking).
The Instinct Solar additionally comes in the models Surf Edition, Tactical Edition and Camo Edition and the manufacturer even boasts «unlimited» battery life, if the watch is running in energy saving mode and catches plenty of rays.
Read on to find out more about the new features and learn a thing or two about solar charging. At the end, there's a short survey – we want to know what you think about sports watches with solar tech.
Garmin Fenix 6 and 6S Solar
Garmin Instinct Solar
Garmin Instinct Solar – Surf Edition
Surf features: Surf app with recording of the number of waves surfed, time, max. speed and longest wave, as well as information on the tides for all surf spots (all features you can also find in the Fenix 6/6S Solar).
Garmin Instinct Solar – Tactical Edition
Tactical features: stealth Mode, tactical activities such as Jumpmaster, Night-Vision Mode, and Dual-Position Format.
Garmin Instinct Solar – Camo Edition
Specs and functions
New Garmin models now have so many features that it's impossible to list them all. Let's focus on those that seem most important.
All the models listed here are compatible with iOS and Android, with a sports strap (silicone), waterproof up to 100 metres, ANT+ connectivity and compatible with QuickFit straps (20 mm or 22 mm), while measuring your pulse under water and sporting an MIP display (Memory in Pixel). All other features are there: Smart Notifications, calories, sleep analyses, step counter, music functions, Find my Phone, weather and so on.
The models come with the following sensors: GPS, barometer, compass, accelerometer, thermometer and pulse oximeter. The Fenix 6 and 6S Solar also have a built-in gyroscope.
The table below lists the most important differences.
| | Fenix 6 Solar | Fenix 6S Solar | Instinct Solar |
| --- | --- | --- | --- |
| Case diameter | 47mm | 42mm | 45mm |
| Wristband width | 22mm | 20mm | 22mm |
| Replaceable wristband | Yes (QuickFit) | Yes (QuickFit) | Yes (QuickFit) |
| Garminy Pay | Yes | Yes | No |
| Weight | 85g | 60g | 53g |
| Colour display | Yes | Yes | No |
| Battery life (normal) | 14 days | 9 days | 24 days |
| Battery life (GPS on) | 36h | 25h | 30h |
| Battery (Energy saving mode on) | 48 days | 34 days | Unlimited |
| On-screen workout animations | Yes | Yes | No |
| VO2max | Yes | Yes | No |
| Golf functions | Yes | Yes | No |
| New sports functions | Surfing, climbing and mountain biking, among others | Surfing, climbing and mountain biking, among others | Surfing (with Surf edition), among others |
To answer the question «How much longer does my battery last with solar charging?», we need to look at the energy mode you use and whether you use GPS and/or music functions. Garmin states that you'll get approx. 15 to 75% more battery if you spend around three hours outside every day and your watch is exposed to direct sunlight.
How does solar charging work? Info and tips on the Garmin Solar Smartwatch
The ads look really cool, but what exactly is solar charging?
Garmin Solar watches use the so-called Garmin Power Glass with a solar charging lens. It can transform sunlight into power.

Solar charging is not (yet) designed to be the primary charging source, but is rather intended to be an add-on. You'll still have to regularly charge in the usual way in order to keep using all functions.

The dial of the watch shows a symbol of the Solar Intensity (absorbed amount of sunlight or lux of the light) and a line chart of the solar intensity over the last six hours.

To make sure you can enjoy a longer battery life as shown in the table, Garmin assumes that you wear the watch all day and spend three hours outside with a light intensity of 50,000 lux.

We recommend not using any protective glass or protective fluid, as this might negatively affect the functionality of the solar charging lens.

The more direct exposure the watch has to sunlight, the more successfully the watch can «harvest» it and convert it into power. In direct sunlight and with a sun intensity of 100%, the watches get approx. 50,000 lux.

Solar charging also works with the watch switched off

Solar charging does not work if the battery is already full or if the watch is simultaneously connected to a power supply (charging device, power bank, etc.).
What do you think of the solar smartwatches?
Join our small survey. Can't find the right response? Use the comments below.
Garmin Solar Smartwatches
What do you think about Garmin Solar Smartwatches?
Great stuff, I'd love to try it.
Rather unnecessary, I see no real advantage.
Well, I'm not quite convinced of this technology yet.
Buy Buy Buy!
Far too expensive!
The competition has ended.
For some time now, I've noticed that the battery life is one of the most important criteria for those who buy smartwatches and sports watches. I personally think (and hope) that Garmin sets news standards with its trailblazing work in solar charging tech and is set to influence new models of all other brands as well, while sustainably influencing the behaviour of users.
Want more? Follow me!
Interested in wearables and mobile accessories? Don't miss any more news and promotions in the future. Log into your account and click «Follow author» on my profile.
---

A day without doing sports and enjoying music is a wasted day. I'm a passionate triathlete who never leaves the house without headphones and smartwatch. To me, keeping up with the digitalisation of everyday life means constantly trying out new devices and always being curious.
---
---
---
---