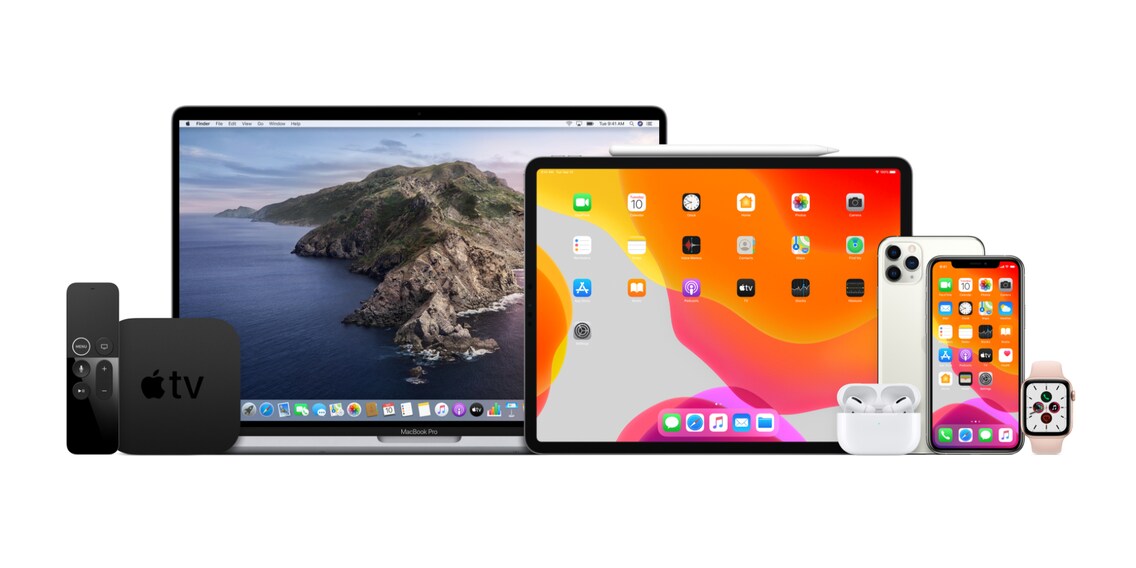 Everything you probably don't know about the latest Apple devices
Wondering what new products Apple has released? We'll show you the latest releases and the coolest features. And most importantly, how to get the most out of the Apple ecosystem.
Apple has an extensive product range with a lot to offer, especially if you use several Apple devices. For instance, if you work on a laptop but you want to carry on where you left off on your tablet, you can. When your Apple devices communicate and sync with each other, it makes your life much easier.
Strap yourself in. We're about to dive into all digitec's Apple products and find out how to get the best out of them. If you know about any other cool Apple features, let us know in the comments.
iPhone
Smartphones are like an extra limb. Did you know we pick them up more than 100 times a day to look at something? This makes the iPhone more than just a very personal possession. It's also the key and remote control to all your other Apple devices. It's like your control centre.
Did you know your iPhone
can hide specific photos in the chronological overview so you can stop people seeing things they shouldn't?
also has a trackpad, which you can use whenever the screen keyboard is activated? Tap and hold your finger down on the keyboard. The trackpad should then appear, letting you navigate with the cursor.
can close several apps simultaneously via Multi-Touch? Put two fingers on the app preview window to close two apps or more at once.
The current bestseller
Apple Watch
The Apple Watch has so much more to offer than just telling the time. You can use it as an alarm, as a contactless payment method for your lunch or as a fitness aid for your evening workouts.
Did you know your Apple Watch
has a calculator with a tip feature?
can take screenshots that can be saved to your gallery?
includes a «Do not disturb» mode, which is great for the cinema, dates, etc.?
The current bestseller
iPad
With its wide range of features, the iPad is perfect for work and studying. You can use it to check the news in the morning, watch movies on the way to work or to do some cramming in the evenings. You can even order your new textbooks hassle-free thanks to Apple Pay.
Did you know your iPad
is compatible with MS Office so you can work on all your documents?
lets you use the same keyboard shortcuts as on your laptop?
can read text sections aloud?
The current bestseller
MacBook
The MacBook has loads of options for almost everything, whether you're editing photos and videos, programming, designing graphics or gaming.
Did you know your MacBook
also lets you take calls?
Pro 13-inch has the latest Magic Keyboard?
saves games so you can continue playing them on your iPhone?
The current bestseller
If you're a business customer, you can buy Apple products from us and pay using Apple Financial Services. This means you can pay for the hardware in two or three instalments rather than everything upfront.
AirPods and Beats
If you want adaptable, all-day headphones, you're in the right place with AirPods and Beats. They're perfect for listening to music while you're out, for taking video calls at home and for going cable-free during exercise.
Did you know your AirPods
can be adapted and configured beyond out-of-the-box settings?
are compatible with the Find my iPhone app, meaning you can use your phone to find your AirPods case?
can be hooked up to your Apple TV so you can watch series without disturbing the rest of the family?
The current bestseller
Apple TV
Apple TV offers more than the name suggests. You can watch TV and films but it also lets you access the most popular streaming apps, such as Netflix, Sky, Amazon Prime and Apple TV+. The Apple TV box also has ample options for gamers.
Did you know your Apple TV
can be controlled using your iPhone?
can be connected to all your Apple devices via Airplay?
lets you view all your photos and videos via iCloud?
The current bestseller
App Store & iTunes gift cards
You can use iTunes e-gift cards to buy all kinds of apps, music and movies from your Apple account. It's easy to pay and you can check your account balance at any time.
Did you know
you can use gift cards to pay for your Apple TV+ subscription or give a subscription as a present?
the apps you've bought and downloaded are available on all your Apple devices?
there are over 2 million apps in the App Store?
Apple services
Apple TV+
The streaming service offers Apple Originals, content produced by Apple. There's new content each month, and you can watch it with the whole family. Don't worry, Apple TV+ doesn't have any ads. You can even download your favourite series to your iPad and watch them offline. When you buy an Apple device, you automatically get a year's subscription to Apple TV+, as long as you activate the offer within 90 days.
Apple Music
The soundtrack to your evening. Dance the night away to your favourite tunes on Apple Music. Students get the first three months free. After that, pay 6.50 CHF per month to access 60 million songs.
Did you know
you can enjoy Apple Music in the car using CarPlay?
Apple Music also gives you the lyrics in time with the song?
you can load music onto your Apple Watch if your phone isn't nearby?
Apple Arcade
Explore the gaming world and discover new characters and games every month. The Apple Arcade subscription gives you access to over 100 online games. You won't get any ads or in-app purchases here either. You can add up to five family members to your subscription and share the fun.
Apple B2B
Apple has lots of interesting options for B2B customers.
Get in touch with our B2B team to find out more.
digitec connect: the all-around mobile subscription
Keep all your devices connected to the Internet with digitec connect. If you want your Apple products to communicate and sync with each other, you need to keep them online. The digitec connect subscription offers an eSIM for your iPhone, while the MultiSIM option is perfect for your Apple Watch, tablet or laptop. Now you can surf on all your devices on the go. There's also a mobile subscription for business customers.
---
Almost anything can fascinate me, I'm always open to new experiences. That's why I'm in exactly the right place, discovering and exploring new and wonderful products and communities every single day.
---
---
---
These articles might also interest you