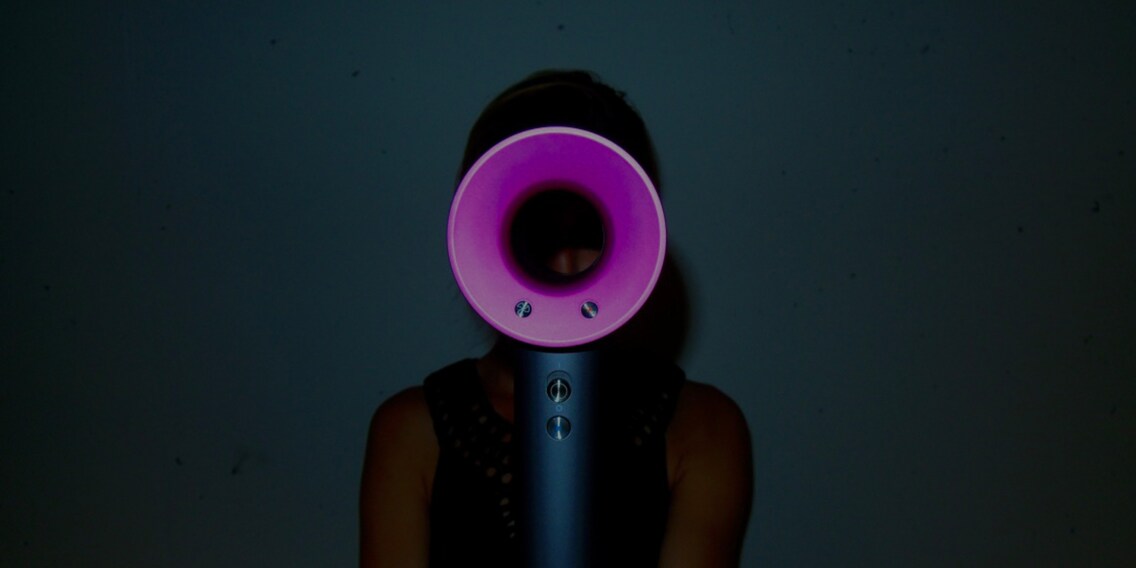 Shea holding the test hairdryer.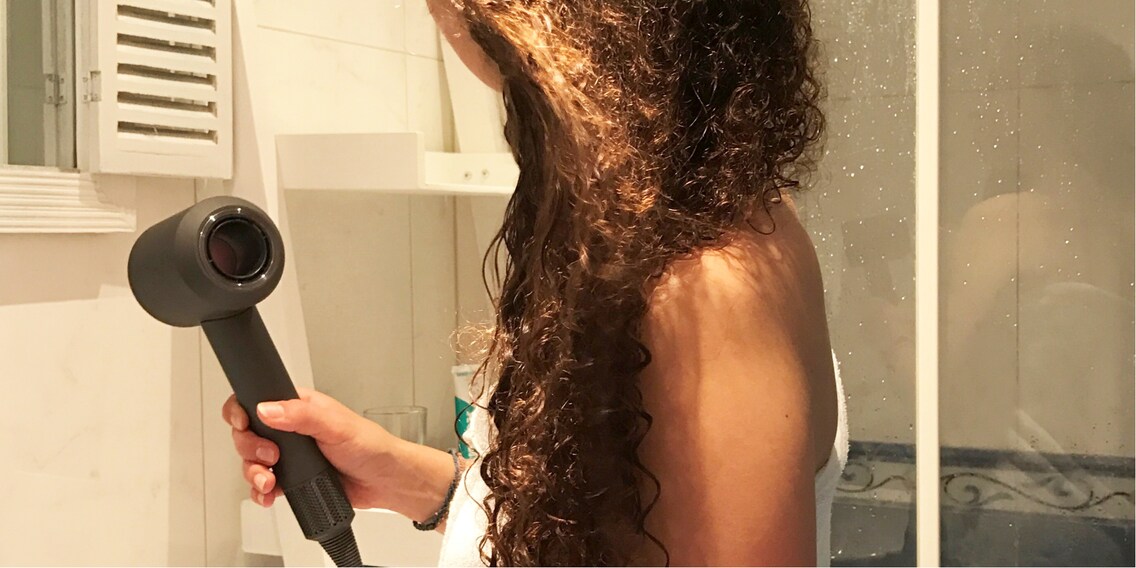 It does a great job with Sina's curls, too.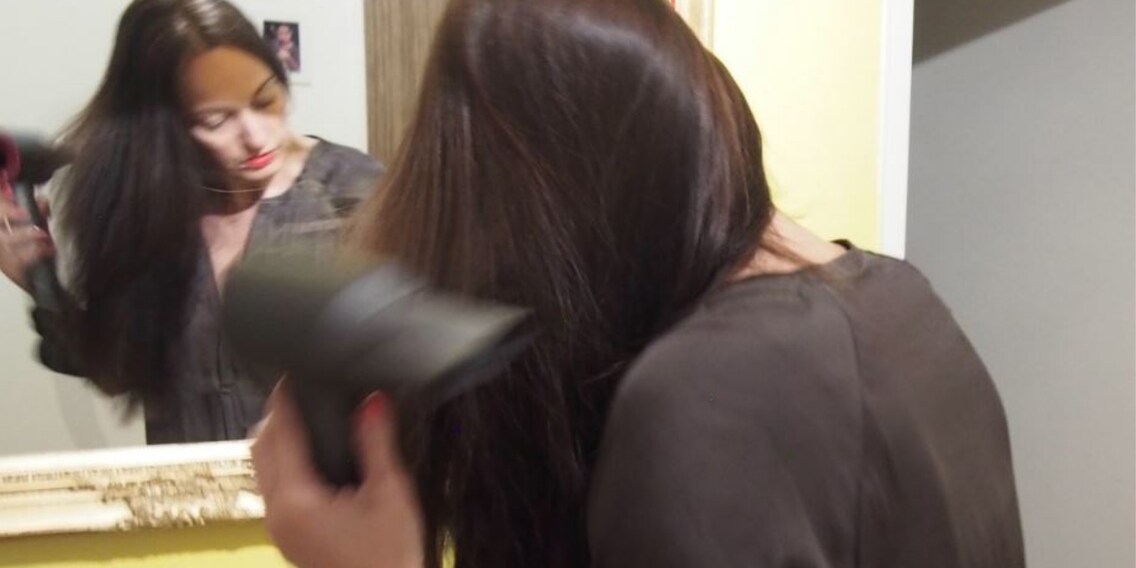 Full power: Stephanie blow-drying her hair with the Supersonic.
Dyson Supersonic: hair drying revolution or just hot hair? We put it to the test

Last year, Dyson entered the beauty sector with its Supersonic hair dryer. Of course, it wouldn't be Dyson if it were just a 0815 hair dryer. The appliance promises to revolutionise blow-drying. But the Supersonic will set you back more than five times as much as an average hair dryer. The question is, will it really innovate the beauty industry, and if so, is it worth the price tag? We decided to put the Supersonic to the test.
The design certainly raised a furore. For those who know Dyson, this won't come as a surprise. Unlike standard hair dryers, the Supersonic stores the motor in the handle rather than in the head. This is supposed to make it easier and more comfortable to use. The manufacturer also guarantees it will dry your hair extra fast with eight times more revolutions per minute (rpm) than a standard blow-dryer. Thanks to specially developed temperature sensors, the Dyson hair dryer is also supposed to protect the hair and its shine. We were interested in finding out which of these promises the hair dryer of the moment fulfills, and most importantly, which improvements add value to the user? By my reckoning, very few people would part with just shy of 500 Swiss francs for outstanding design – at least, not for a hair dryer.
That's why I got together with four other Galaxus girls to put this premium blow-dryer to the test.

The Supersonic is a real eye-catcher
Between us we have different types of hair, from varying heads of hair, hair length and thickness. But there is something we all have in common: our hair is important to us, and we want to make sure it looks healthy and cared for. Our hair drying habits differ vastly. While Tanja blow-dries and styles her hair every day, Sina prefers to let her long, thick locks air dry so as not to mess them up. Understandably, Sina is particularly excited to see whether the Dyson can step up to the challenge where all her other hair dryers failed. Can the Dyson dry and tame her head of curls at the same time? Along with Sina and Tanja, who aren't at all happy with their current blow-dryers, there is Shea, Stephanie and myself who are. Having said that, we were all able to pinpoint aspects that could be improved and tended to agree on these. Fan power stands out as the biggest flaw. This is what dictates the strength of the hair dryer and affects how quickly you can dry your hair – we're all about speed! Heat protection and level of noise are also aspects that are important to us. We think improvements could be made to the setting options, to make the appliance easier to use, and of course, to give better results after drying.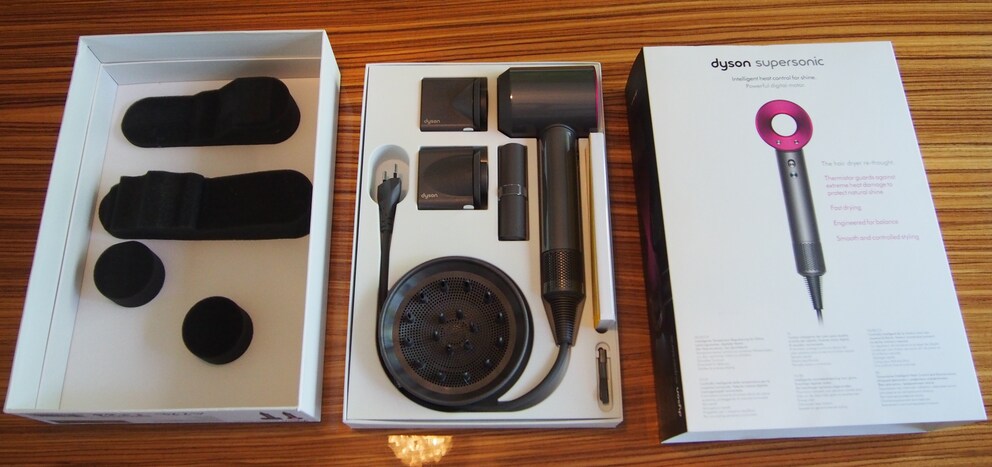 The Dyson Supersonic doesn't skimp on accessories. It comes with three different attachments so you can create every look.
Tanja: «When I dry my hair in a morning it can be a bit loud, which isn't ideal as you've just got up. I'd love for my current hair dryer to make less noise and have more power. It would make sense to increase the strength of lower temperature settings in particular. This would mean you could dry your hair well without exposing it to excess heat.»
Cinzia: «The most important thing for me is not damaging my hair when I dry it. I want to keep it healthy and shiny. On top of that, I want to be able to blow-dry my hair quickly, especially as I have quite a lot of hair. It's not like I'm trying to dry elaborate hairstyles. I just flip my head upside down and let the hair dryer do its work.»
Full steam ahead
These results aren't to be sneezed at. After we all road-tested the Dyson Supersonic for two weeks, each one of us admitted we'd choose the Dyson over our own hair dryers. Even Sina now blow-dries her long locks – and no, we're not twisting her arm. The Supersonic's performance doesn't fail to impress. In fact, it gets top marks from all five of us. Along with power, noise level is labelled as one of our most important criteria. This is where we don't all see eye to eye, as sensitivity to noise varies from person to person. The Dyson hair dryer emits sound at a relatively high frequency when compared with its counterparts. Some of you might find it quieter than other blow-dryers, while others of you might think it's unpleasant or even annoying.
Coming in in second place after drying performance were the Supersonic's controls, styling options and design. Overall, we gave the premium hair dryer a score between «very good» and «excellent», as all five of us saw visible improvements in our styling efforts. However, we still think there is room for improvement in these areas:
• It could be quieter. • The airflow and heat control switches would be better in the handle rather than in the head. • Similarly, air induction on the lower end of the handle is not very practical.
• For this kind of price, it would be good if the hair dryer came with a travel case to protect the high-quality appliance and its accessories.
• The price seemed rather steep. We'd have been willing to pay between 150 to 350 Swiss francs, which is less than the actual price but still more than we paid for our current hair dryers.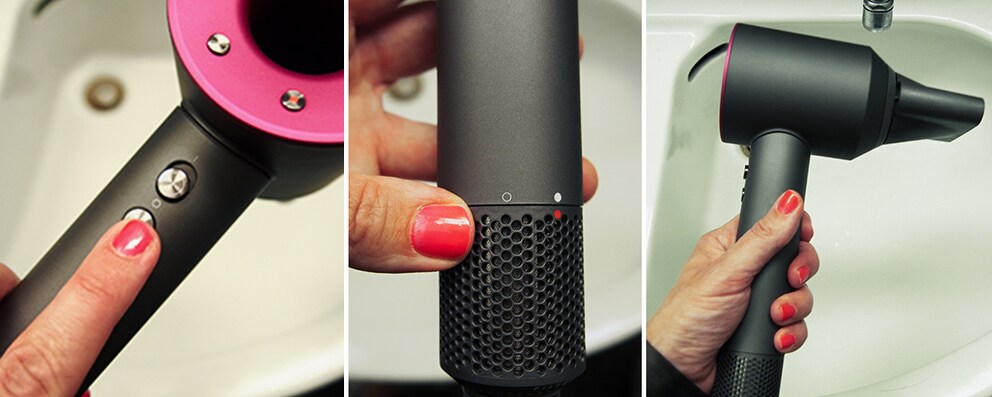 The Dyson comes in a refreshingly different shape. Although we like the design, we can still pinpoint a few areas needing improvement.
What is our verdict on the most unusual hair dryer of all time? Our five Galaxus testers were unanimous in recommending the Dyson Supersonic – it definitely gets the thumbs up from us.
Shea: «The Dyson may be expensive, loud and on the heavy side for a hair dryer, but I would still recommend it. My hair tends to be frizzy naturally, and the Dyson helps me tame this. My hair is noticeably smoother than it is when I use a conventional hair dryer, and also less static. All in all, it is a good blow-dryer, especially for thin and rather dry hair.»
Sina: «Based on its performance, the Dyson is a hair dryer I'd recommend to anyone, especially people with curly hair. In fact, it's the first blow-dryer that has dried my hair quickly and gently. However, I do think it's very expensive.»
Stephanie: «Wow! Even after using the Dyson Supersonic just once I was pleasantly surprised. This hair dryer lets me achieve the same effect in less time. Thanks to its technology, it doesn't damage the structure or make-up of my hair. In fact, I have the same healthy hair structure as I did with my previous hair routine. Despite all the blow-drying, my hair doesn't look dry; it has a lovely shine to it. The Dyson is a realistic alternative for me and therefore gets a firm 10+ out of 10 compared to hair dryers I've used before. However, I have deducted points for the hefty price tag.»
Cinzia: «The Supersonic has everything I need in a hair dryer. It even offers more. With the Dyson, I can get my hair dry in no time and it looks healthy and shiny afterwards. I get better results than with my current top-of-the-range model. Once I've blow-dried my hair with the Supersonic, my already smooth hair looks even better and for the first time, there are (almost) no little hairs standing up on the top of my head. Of course, it is quite expensive compared to other models. If you already buy high-quality beauty products and haircare is important to you, I would say this hair dryer is a worthwhile investment. It is certainly something I would save up for.»
Tanja: «The Supersonic doesn't just look nice. There's a lot going on beneath the surface. Highlights for me are the fan strength and how quiet it is. I often had the feeling my current hair dryer made my hair static, and this doesn't happen with the Dyson. With this blow-dryer, I get my hair dry faster. This is a godsend in the mornings. Thanks to the strong fan, I can select a lower temperature, which is better for my hair and doesn't stress it as much. The Dyson is impressive. So much so it's my must-have beauty product of 2017.»
Get your hands on the highly acclaimed Dyson Supersonic: now on special offer but hurry! Only while stocks last
Find out more about the new Dyson hair dryer here (in German):
Skeleton Loader

Skeleton Loader
---


Discovering foreign countries and cultures and tasting coffee or other delicacies is what I enjoy most when I travel. My home is decorated with little gems I find in thrift shops and at flea markets. When I'm having one of my big DIY moments, my creativity is unleashed. Both the mountains and the seaside restore my inner balance. With a snowboard or surfboard under my feet, I'm happy. 
---
These articles might also interest you
Skeleton Loader

Skeleton Loader

Skeleton Loader

Skeleton Loader

Skeleton Loader

Skeleton Loader