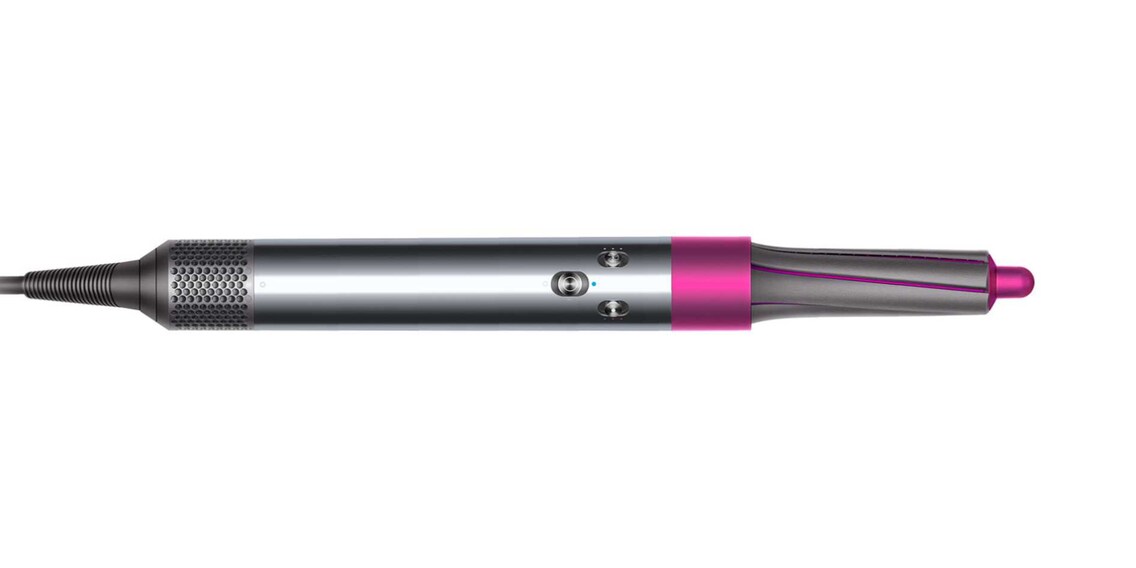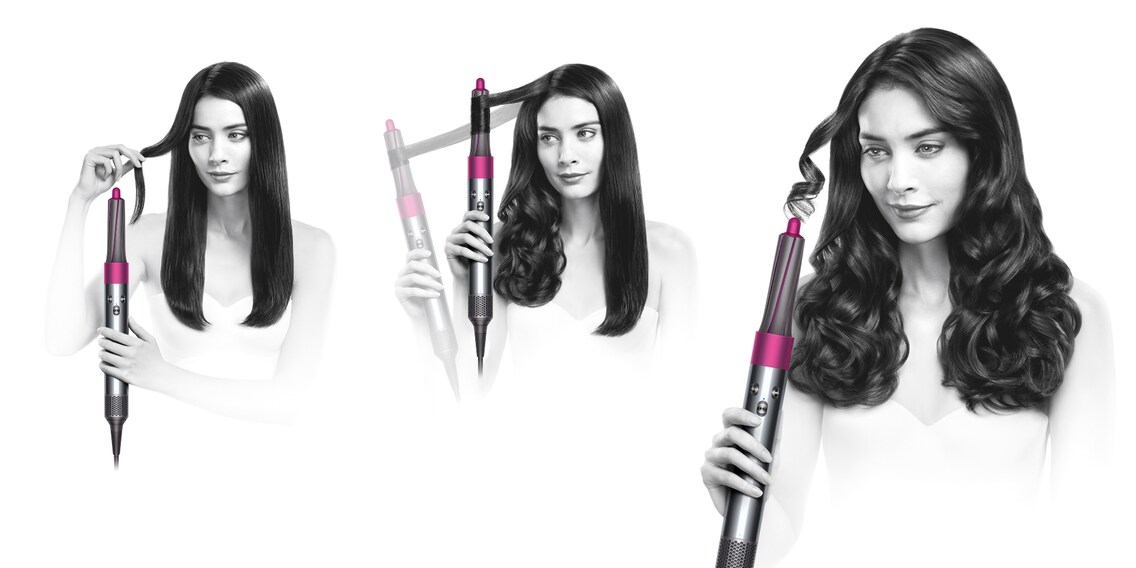 The Dyson Airwrap automatically pulls hair in, wraps it around the nozzle, just with air, and curls it without extreme heat. Image source: Dyson
The Dyson Airwrap combines a strong stream of air with heat control and the Coandă effect – simultaneously styling and drying your hair. Image source: Dyson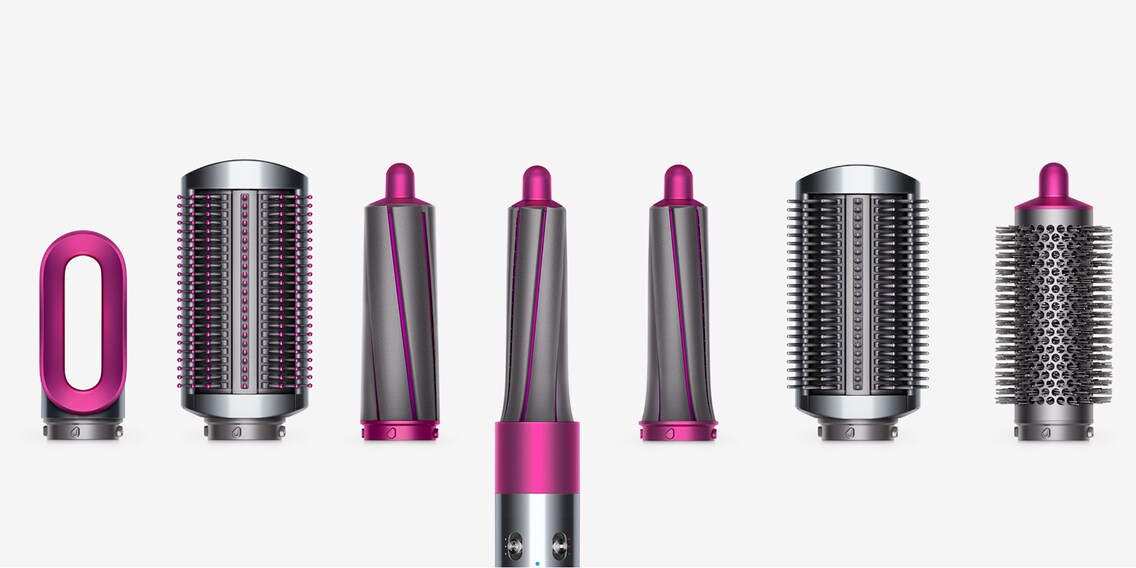 Six different attachments make the Airwrap a multi-functional hair styling tool. Image source: Dyson
Dyson Airwrap: air-dried curls without extreme heat

Curls, waves and perfectly dried hair – now without extreme heat. Dyson has launched its first hair styler, the Airwrap, and with it its latest stroke of genius. The Dyson Airwrap styles hair gently using the Coanda effect and air. Read on to find out how it works and what else Dyson's newest beauty miracle promises.
Daily styling with hot straighteners or curlers is so last season. With the Dyson Airwrap, you no longer have to expose your hair to harsh heat to quickly style it in curls, waves or perfectly straight. With its trademark powerful Dyson motor creating a strong jet of air and harnessing the Coandă effect, Dyson is revolutionising how we curl our hair. The brand's latest offering is a multi-function hair styling tool that claims to make all our dreams come true. One step at a time though!
Innovation: curling with just air
The Dyson Airwrap attracts, wraps and curls hair. With just air. Watch the video to see how you can easily and gently create magical curls with the Airwrap.
The technology behind extreme heat-free styling
The Dyson Airwrap hair styler is powered by the V9 digital motor. With up to 110,000 rpm, it generates 3.2 kPa, making it powerful enough to create the air pressure required for the Coandă effect.
«Our digital motor technology gives us the high-pressure, high-velocity airflow needed to create the Coandă effect.» Graham Donald, Senior Motor Drives Engineer at Dyson
Styling hair without extreme heat
The hydrogen bonds that shape your hair can be broken down and repositioned to style it. With the Airwrap, you can even style damp hair. The combination of the water in your hair and the Airwrap's powerful airflow and temperature control enables it, according to Dyson, to style and dry hair at the same time – all without subjecting it to extreme heat.
Intelligent heat control
Temperatures above 150°C can severely damage hair, and it can even melt at over 230°C. The Dyson Airwrap styler's temperature sensor measures the outgoing airflow over 40 times a second. The data is then transmitted to the microprocessor, which controls the heating element and keeps the temperature under 150°C. This prevents extreme heat damage.
The Coandă effect and how it can be harnessed for hair styling
The Coandă effect is an aerodynamic phenomenon. When propelled at the right speed and pressure, air naturally follows an adjacent surface, drawing in surrounding air.
The Coandă effect creates curls without tedious twirling
Watch the video to see how the Coandă effect is used to curl hair and find out more about the product's engineering.
The Dyson Airwrap automatically attracts hair and wraps it around the attachment with just air. The Coandă effect directs the air in such a way that hair is drawn to the curling attachment, without hair clips, gloves or complicated curling wands. Dyson's first hair styler promises to create bouncy curls and waves with ease.
The Coandă effect creates smooth, silky hair with just one hand
Watch the video to see how the Coandă effect on the stylish brush results in smooth, silky hair.
The smoothing brushes harness the Coandă effect to attract hair to their surface. Air is distributed along the hair strands, emulating a stylist's professional blow-drying technique.
Multifunctional: six attachments to create different looks
With the Airwrap's different attachments, you should be able to create virtually any hairstyle imaginable. The six different heads, which can be attached to the main wand and swapped at will, turn the Airwrap into a multifunctional hair styling tool.

Pre styling dryer
The hair dryer attachment prepares towel-dry hair for styling. The Airwrap and its attachment may not look exactly like the [Supersonic](in German)(https://www.galaxus.ch/de/s6/page/haben-wollen-dyson-supersonic-haartrockner-4419), but the technology and its effect are (almost) exactly the same.
Small and large curling attachments for curls and waves
The Airwrap's 30 mm curling attachment creates voluminous curls or waves, while the 40 mm attachment creates loose curls or waves. Both were developed with flow-vane geometry and wrap and curl hair automatically using the Coandă effect to create curls. There are two variants for different curl directions: the airflow is clockwise in the one variant, and anti-clockwise in the other. This creates symmetrical curls. A blast of cool air should make it easy to remove the attachment.
Firm smoothing brush to fight the frizz
The firm bristles on this smoothing brush promise to tame unruly, frizz-prone hair. It distributes air along the strands of hair, emulating a stylist's professional technique. Use this brush for smooth styling with reduced frizz and fewer flyaways.
Soft smoothing brush for silky hair
This brush attachment was developed with soft ball-tipped bristles to be extremely gentle on the scalp. The soft smoothing brush creates a smooth, blow-dry finish.
Round volumising brush
According to Dyson, the round volumising brush is ideal for limp, flat hair. It directs air into the hair to give body, and the bristles create tension to shape hair as it dries. Forget spending hours with a hair dryer and a round brush: you now have two tools in one.
The products: three packages for different results
The Dyson Airwrap is available in three variants for different hair and styling needs. The combination of styling attachments varies with each package, with the main wand neatly presented in a leather box.
Dyson Airwrap Smooth + Control: for unruly, frizz-prone hair
The attachments for the «Smooth + Control» promise to smooth and tame unruly, frizz-prone hair: pre styling dryer, 30 mm and 40 mm barrels and firm smoothing brush.
Dyson Airwrap Volume + Shape: for limp, flat hair
The «Volume + Shape» includes styling attachments specially developed for shape and volume and is best suited to limp, flat hair: pre styling dryer, 30 mm barrel, soft smoothing brush and round volumising brush.
---


Discovering foreign countries and cultures and tasting coffee or other delicacies is what I enjoy most when I travel. My home is decorated with little gems I find in thrift shops and at flea markets. When I'm having one of my big DIY moments, my creativity is unleashed. Both the mountains and the seaside restore my inner balance. With a snowboard or surfboard under my feet, I'm happy. 
---
These articles might also interest you
Skeleton Loader

Skeleton Loader

Skeleton Loader

Skeleton Loader

Skeleton Loader

Skeleton Loader