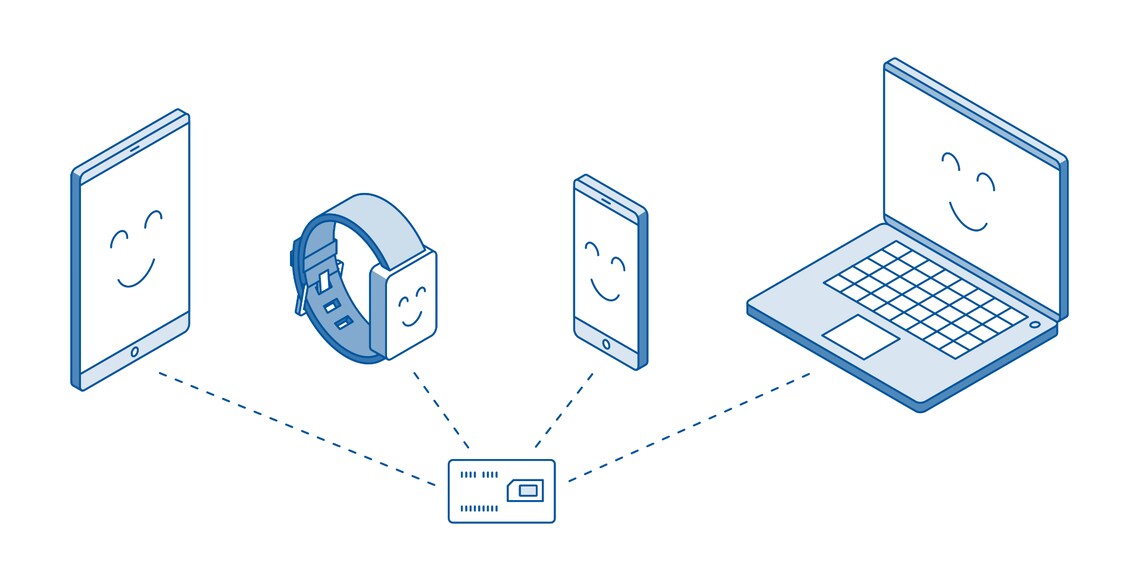 digitec connect MultiSIM – try our free 12-month trial
Want to use more than one device to surf and make calls? With our MultiSIM option, you can now use up to four additional devices with your digitec connect subscription.
We've been working hard over the last few weeks and are very excited to bring you MultiSIM. Until now, the rule was: one phone number, one device. But the digitec connect MultiSIM option takes things to the next level. You can now use the same phone number on up to four additional devices with your digitec connect subscription.
The first year's on us!
Not sure if MultiSIM is right for you? Don't worry, you've got plenty of time to try it out. Your first MultiSIM option is free for the first year! After the trial year's up, MultiSIM as well as every further MultiSIM option is 5.– a month. We like to keep things simple. Our MultiSIM option works on all devices with eSIM or a SIM slot.
5.– a month per MultiSIM option
Up to 4 MultiSIM options per connection
No activation fees
Cancel any time at the end of the following month
MultiSIM uses the data and phone number of your digitec connect mobile subscription
High-speed connection on the Sunrise network
Available for businesses and employee benefit subscriptions
What's MultiSIM?
In addition to your smartphone, you can use an increasing number of devices with their own SIM card or eSIM. No matter which device you're using, the MultiSIM option means you're always connected to the mobile network. So, no more relying on hotspots or Wi-Fi.
All devices you use with MultiSIM share the data volume and phone number of your digitec connect mobile subscription. In other words, you can simultaneously surf the Internet on all devices and have the same phone number for all of them.
How do I activate the MultiSIM option?
You need an active digitec connect mobile subscription.
The devices you want to add, e.g. your smartwatch or tablet, need to have eSIM or a SIM slot.
In your digitec connect Cockpit, you can add MultiSIM options yourself.
Further information on the MultiSIM option is available on our digitec connect website.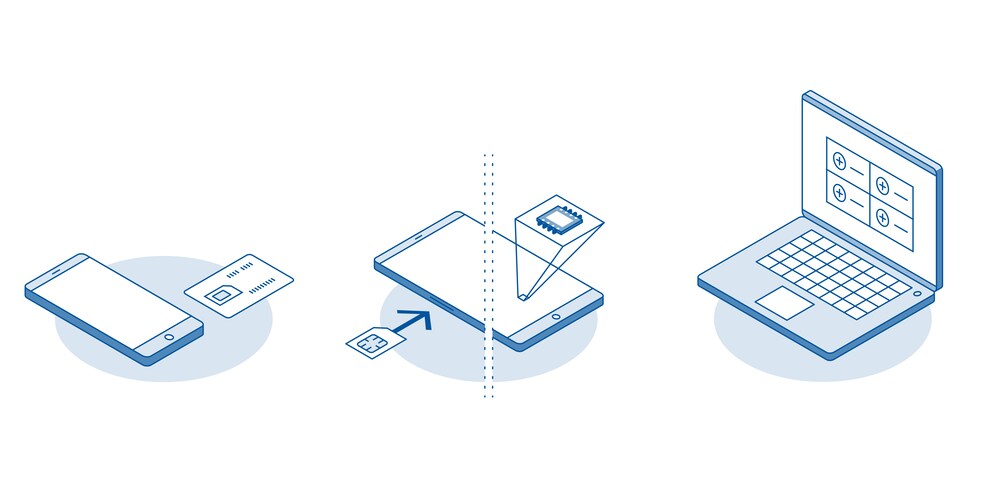 MultiSIM for smartwatches
If you have a smartwatch with 4G connectivity, the MultiSIM option will let you use the full extent of it without having to be connected to your phone. So, leaving the house wearing only your smartwatch and still being reachable is no longer a contradiction. Enjoy a mobile-free jog while listening to music, checking your chats and even taking calls.
Discover all smartwatches with a SIM slot or eSIM here.
MultiSIM for notebooks
More and more laptops feature a SIM slot or eSIM. MultiSIM gives you the freedom of being connected even when there's no Wi-Fi. This allows you to work on the go without having to depend on a mobile hotspot provided by your phone.
Discover all laptops with a SIM slot or eSIM here.
MultiSIM for tablets
For many of us, tablets are the perfect alternative to a laptop. They're lighter, more manageable and perfect for using on-the-go. But what good is a tablet without an Internet connection? If you're out and about a lot, a tablet with a SIM slot or eSIM could be the solution. Let's say you're on the go with your kids and decide to keep them busy with the tablet for a while. You'll no longer need to use a hotspot connection. Then you can also use your mobile without any restrictions.
Discover all tablets with SIM slot or eSIM here.
MultiSIM for smartphones
Does your job involve spending time on construction sites? And did you buy a sturdy backup mobile to prevent your standard smartphone from getting damaged? If so, the MultiSIM option could be used on your second smartphone, making you available under the same number on both phones.
But MultiSIM is not only available for smartwatches, laptops and tablets. It works for any device equipped with a SIM slot or eSIM. There are many other devices available for various applications. For example, you can use the MultiSIM option for a mobile hotspot or router with a SIM slot.
Any questions or feedback? How do you like digitec connect? Thanks for letting us know what you think! Join the digitec connect Community exchange here.
---
Almost anything can fascinate me, I'm always open to new experiences. That's why I'm in exactly the right place, discovering and exploring new and wonderful products and communities every single day.
---
---
These articles might also interest you