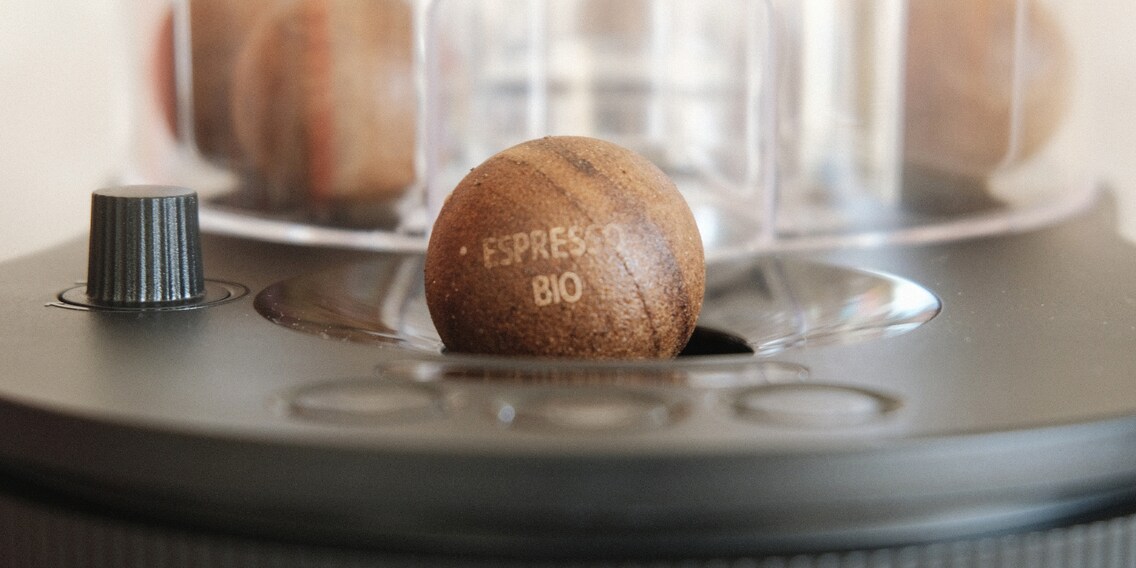 CoffeeB: Migros' latest innovation put to the test

A capsule coffee machine that doesn't generate household waste because its pods aren't individually wrapped. This system was developed and patented by Migros subsidiary Delica. But does the low-waste coffee also taste nice?
«On 6 September, the greatest product innovation in Migros' corporate history will be launched.» It's with these modest words that the press release for the new capsule machine called CoffeeB begins. A capsule coffee machine that no longer requires you to collect and dispose of small aluminium cylinders. This is because the system no longer relies on coffee-filled aluminium capsules, but on balls made of compressed powder. To ensure everything holds together, the balls are covered with a layer of alginate – a product derived from brown algae. This composition means the spheres should turn into humus within four weeks. Migros subsidiary Delica patented the system, which is the first of its kind.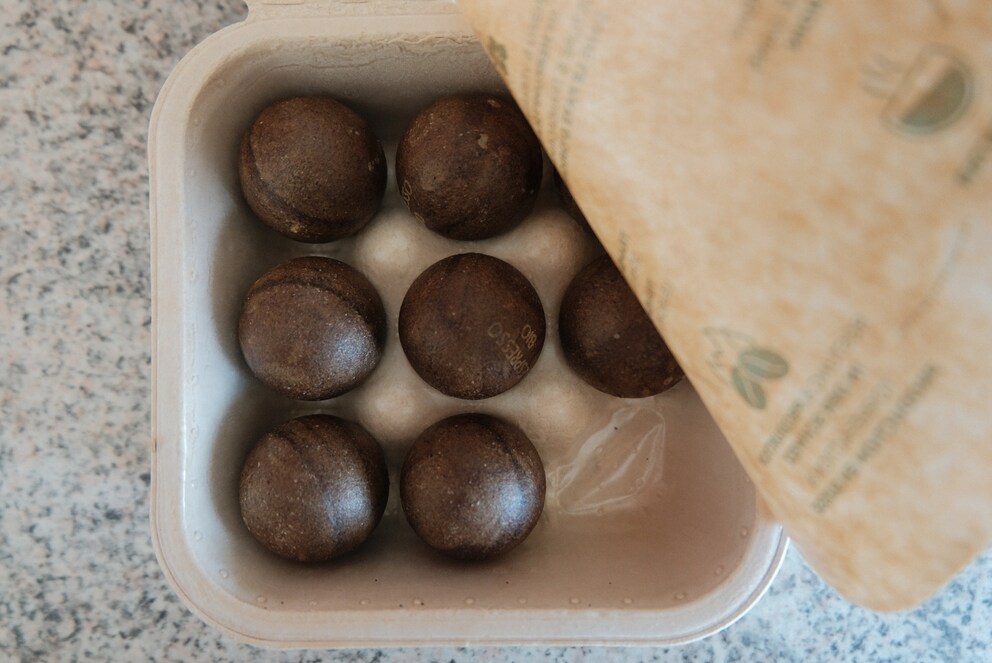 A little cheaper than Nespresso capsules
The balls are sold in batches of nine sitting in little cardboard trays. They remind me of vegan bliss balls that were all the rage a while back. Priced at 51 centimes per ball (Café Royal Lungo), they're slightly cheaper than the Nespresso capsules that will set you back 55 centimes (Stockholm Lungo). There are currently eight varieties of Café Royal available, but Migros is open to partnerships with other coffee brands in the future, says Frank Wilde, Head of CoffeeB.
What strikes me about the box besides its resemblance to an egg carton: the declaration of origin of the coffee only says «non-EU». So as a customer, I don't exactly know what I'm drinking. Although this isn't unusual for capsule coffee, it's still a shame. According to Wilde, all varieties are blends. Mainly consisting of about 60 per cent from South America. Only the organic coffee is 100 per cent Peruvian. Unlike its counterparts, the latter isn't just Rainforest Alliance – it's also Fairtrade certified.
Time to see if the compostable spheres are tasty. I go for the Bio Lungo and pop all nine balls in the designated coffee carousel on the machine. By the way, the machine costs 169 francs, which is roughly in the middle price range of capsule machines. I like the minimalist design. But I'd like it even better if it weren't made of so much plastic. However, according to manufacturer Delica, 34 per cent of the plastic used is recycled.
Takes its time but is tasty
Let's get back to the coffee. First up, you need to rinse the CoffeeB machine through twice. You can do this right out of the box (and only need to the first time you start it up). After this, it's ready for the first ball. I turn the dispenser and let the ball roll into the hole in front of it. Before pressing the Lungo button, I push down the lever on the right side of the machine. And wait. The process takes longer than I'm used to from my mother's Nespresso machine. This is because the machine only starts heating up at this stage and the ball is washed with water for ten seconds as well as perforated. That explains why a little water drips into my cup before a brown stream follows. 48 seconds after the first click, I press the Lungo button again to stop the process manually – the default 110 millilitres factory setting is too much for my taste. I'll reprogramme it at a later stage. The lever swings back automatically and the rest of the ball falls into the grounds container.
In terms of taste, or rather quality, I can't really taste the difference between this coffee and the «standard» Nespresso, Café Royal and no-name capsules my mother uses in her machine. I can taste the difference when I compare them to the beans I use, which are from a small Swiss roasting house. I grind them up and put them in the portafilter. But that's probably not a fair comparison.
Once the grounds container is full, the leftover balls – which now somewhat remind me of American cookies – can simply be put into your garden compost or organic waste bin. The whole product won't add to your household waste as the packaging is also recyclable as it's made of cardboard.
Is this the huge innovation Migros announced?
Maybe not quite, but it's definitely a step in the right direction. Even though we've already seen the odd eco-friendly and compostable alternative to the aluminium capsule before, a sphere that isn't individually wrapped and can go into your garden compost is new. This means the system isn't only less wasteful, it's also less energy-intensive to produce. But if your old capsule machine is still running, investing in a new coffee machine just for this reason would defeat the purpose. However, if you need a new one and like the taste of Café Royal, this machine will provide you with good capsule coffee for 169 francs minus collecting and disposing of aluminium packaging at the retailer or recycling centre.
Digitec Galaxus AG is a Migros subsidiary. Our editorial team works independently. Find out more about what that means here.
---


My life in a nutshell? On a quest to broaden my horizon. I love discovering and learning new skills and I see a chance to experience something new in everything – be it travelling, reading, cooking, movies or DIY.
---
---
---
These articles might also interest you
Skeleton Loader

Skeleton Loader

Skeleton Loader

Skeleton Loader

Skeleton Loader

Skeleton Loader