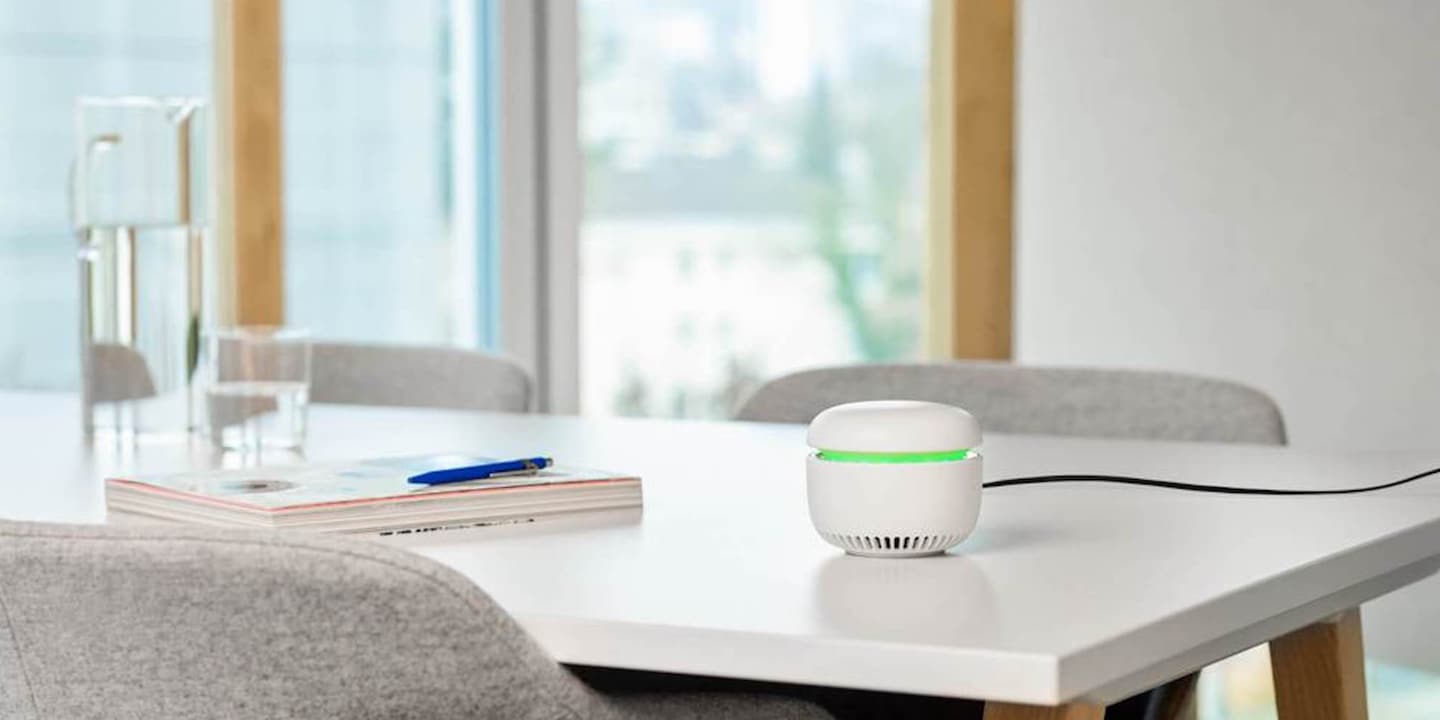 CO2 meters are in demand in the battle against Covid
CO2 meters are popular in our shop. The back-to-school season and ongoing pandemic are creating a run on these gadgets. But for the most part they're only useful in schools and offices.
After over two years, a broad scientific consensus has been reached about the spread of Covid-19. The first method of transmission is through infectious droplets, for example, when someone sneezes or coughs on you. However, it's also undisputed that the virus can remain suspended in the air in aerosols for a relatively long period of time – several minutes, to be precise – and can therefore also be transmitted through said aerosols. According to research carried out by the «Republik» magazine, this realisation came to Switzerland with quite the delay.
In any case, the CO2 level in the air is a rather useful, scientifically recognised indicator of air quality. If there's too much carbon dioxide in the room, it's time to aerate it. This allows any potential viruses to also be expelled from the room. Air quality shouldn't be trivialised. Starting at just 800 to 1,000 ppm (parts per million) of CO2, air quality is only «fair». Above 1,400 ppm it's only «mediocre», and above 1,400 ppm it's «bad». For comparison: according to a notice by the German Environment Agency, the average level of carbon dioxide in ambient air is around 400 ppm.
Meters are no modern marvel
In Switzerland, Martin Bäumle, member of the Green Liberal Party (GLP) and National Council, started advocating the monitoring of air quality in public buildings such as schools very early on.
Devices that measure the CO2 concentration in the air have been around for some time. They typically also measure other things like temperature, air pressure, humidity and radon levels.
At the beginning of 2020, back when we were all at the office on a regular basis, editor Carolin Teufelberger tested one such indoor air quality sensor.
In recent weeks, devices like this one are more in demand in our shop than ever before. Fabienne Bratschi, Senior Category Business Manager, notes that sales of the most popular products are up by 50 per cent compared to last year.
These are the current new and best-selling models:
The start of the school year and gradual return to the office are likely to be the main reason for this increase in sales. In crowded rooms, such as classrooms or meeting rooms, air quality drops rapidly as the concentration of aerosols increases. CO2 meters help to identify when it's time to aerate the room.
In February, the German consumer organisation «Stiftung Warentest» carried out tests to determine which device is most suitable for your office or classroom.
Do I really need such a device?
At home, you're breaking a butterfly on a wheel if you go for an expensive top seller. With their large displays and traffic light systems, these devices are mainly intended for professional use – or for true aficionados. In addition to the aforementioned device that Carolin tested, we also carry other indoor air quality sensors that are suitable for private use.
By the way, there's no need to throw out any old meters you may have and replace them with new ones just because they don't measure CO2 levels. In private households, routine aeration is enough to maintain good air quality.
Cover image: Caru Air
---

Journalist since 1997. Stopovers in Franconia (or the Franken region), Lake Constance, Obwalden, Nidwalden and Zurich. Father since 2014. Expert in editorial organisation and motivation. Focus on sustainability, home office tools, beautiful things for the home, creative toys and sports equipment.
---
---
---