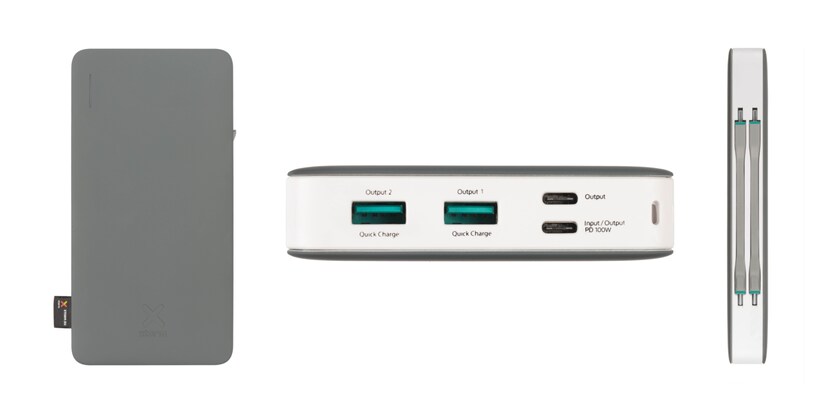 Charge anything: the 100 W power bank with a special set for Apple users
In everyday life, we're surrounded by many technical devices. These don't just require our attention, but also constant power. Aside from high demand for power banks, we noticed that powerful power banks for laptops are also becoming more and more popular.
The Xtorm XB304 Titan is, so to speak, the Swiss Army Knife among power banks. Not only because two small USB-C to USB-C cables are already inserted on the side, but because it offers interesting specs and many application possibilities.
For Apple users, we've put together a special product set that also includes a matching USB-C to Lightning cable. For users of previous models, the Lightning cable is also available separately.
Specs and uses
Suitable for: cell phones, tablets, laptops, headphones, drones, Nintendo Switch, etc. – it can charge up to four devices at the same time.
Capacity/energy: 27,200 mAh at 98 Wh – charge your iPhone 10 times or your MacBook Pro 1.5 times over.
Port 1: USB-C (input and output) with 100 W and Power Delivery charging technology.
Port 2: USB-C (input and output) with 60 W and Power Delivery charging technology.
Port 3: USB-A (output only) with 18 W and Quick Charge 3.0 charging technology.
Port 4: USB-A (output only) with 18 W and Quick Charge 3.0 charging technology.
Integrated USB cables: 2x USB-C to USB-C PD – the Lightning set also includes a USB-C to Lightning cable, all cables are approx. 10 cm long.
Charging technology: Power Delivery, Quick Charger 3.0 and Pass-Through Charging (i.e. the power bank can charge other devices while simultaneously charging itself, making it effectively a USB hub).
Dimensions and weight: 17.9 cm × 9.2 cm × 2.3 cm at 558 grams.
Battery type: Lithium-Ion.
Suitability for travel: the XB304 may be carried in hand luggage when flying.
Material and design: the surface is rubberised – this way the power bank won't slip off surfaces and doesn't scratch other items while being carried.
Charging time: on average approx. 3.5 h – if the power bank itself is charged with 60 to 100 W, the charge time can be reduced to up to 1.5 h (for this, the powerful XA031 or XA030 chargers are recommended).
Included in the delivery: USB-A to USB-C cable, which you can use to charge the power bank.
A quick note on power: while the strongest output individually produces 100 watts, the power bank can deliver up to 130 watts when using multiple outputs simultaneously. This happens, for example, when you charge your MacBook Pro, iPhone, and AirPods at the same time. The notebook gets 100 W, while the cell phone and headphones share the remaining 30 W between them.
More power banks from Xtorm
There are about thirty more Xtorm power banks in our range. This also includes the new FS401 and FS402 Fuel Series models, characterised by fast charging times (more than half of a cell phone battery in 30 minutes) and a pleasant feel, among other things.
Even before the XB304 Titan, we carried various powerful Xtorm power banks – such as the XB303 Voyager or XB302 Rover – which are also suitable for charging a notebook and are well reviewed by customers with an average rating of 4.5 stars.
Want more? Subscribe to my articles!
Interested in wearables and phone accessories? Don't miss any more news and promotions in the future. Log into your account and click «Follow author» on my profile.
---

A day without doing sports and enjoying music is a wasted day. I'm a passionate triathlete who never leaves the house without headphones and smartwatch. To me, keeping up with the digitalisation of everyday life means constantly trying out new devices and always being curious.
---
---
---