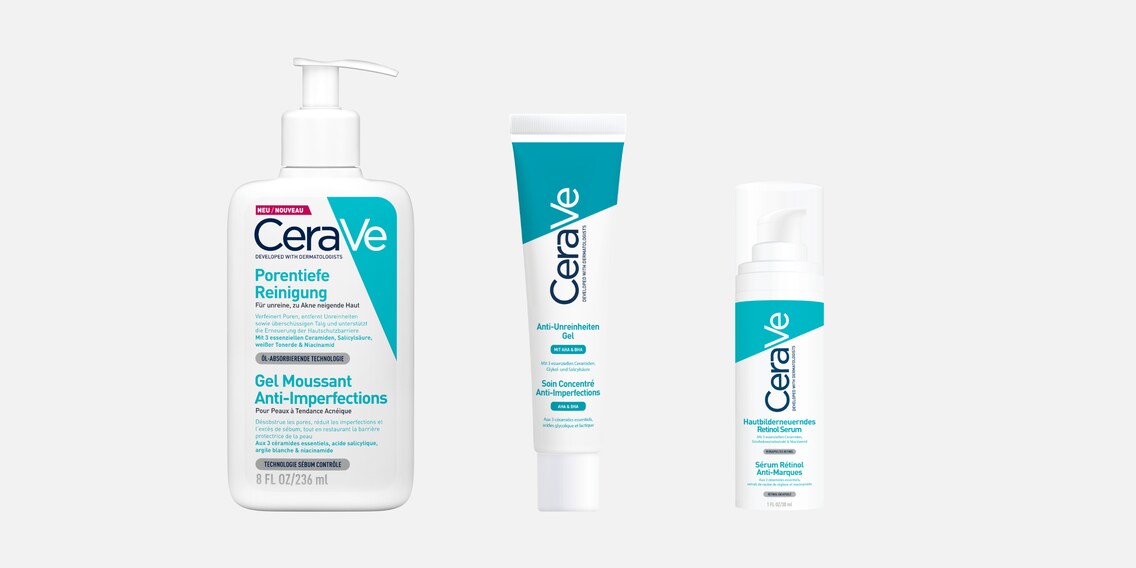 This article was translated automatically.
CeraVe expands its range with special acne face care
CeraVe launches a facial care routine specifically for acne-prone skin.
The three products were developed together with dermatologists and are intended to provide a more even facial skin and reduce impurities. The three essential ceramides contained in the products restore and maintain your skin's natural protective barrier.
Following, I'd like to show you CeraVe's new skincare routine for acne-prone skin. A regular skincare routine is crucial for long-term improvement of your skin's appearance. According to the manufacturer, you should give your skin six to eight weeks to get used to the new skincare products and let them work their magic.
Step 2: Apply the new skincare routine to your acne-prone skin.
Step 1: Deep pore cleansing
The cleanser with salicylic acid removes excess sebum, dead skin cells and has a mattifying effect.
. Use the pore cleanser in the morning and evening. Put it on a cotton pad and gently go over your chin, nose, forehead and cheeks. Avoid the eye area. Then rinse the skin with clean water.
Step 2: Clarify with anti-impurities gel
. The peeling gel works with AHA acid, which reduces impurities and prevents pimple marks. Glycolic acid and salicylic acid provide a gentle exfoliating effect. The niacinamide contained in the peeling gel has a calming effect. It is recommended to use the peeling gel in the evening. After cleansing your facial skin, apply a thin layer of the gel and gently massage it in with circular movements. Avoid the eye area. Start with one application per day. If you tolerate it well, you can repeat the application two to three times a day. It is important to remember to protect your facial skin from the sun during exfoliation. It's best to use a sun cream with a high sun protection factor and wear headgear.
Step 3: Nourish with skin-image-renewing retinol serum
. The serum is designed to soften pimple marks and refine enlarged pores. It has a calming effect and supports the renewal of the skin's protective barrier.
. Apply the serum evenly to the face. Avoid the eye area and lips. In case of contact with the eyes, rinse thoroughly. Recommended for daily use. If skin irritation occurs during first use, stop application and continue only when your skin has become accustomed to it.
.
Haven't found your perfect product yet? Click here for the full range from CeraVe. . If you have any questions about the individual products, please contact our expert Ms Lola Bonnemain directly on 077 265 91 96. She will be happy to advise you from Monday to Friday from 8 a.m. to 8 p.m. on all questions relating to medical care products.
---
---
---
These articles might also interest you
Skeleton Loader

Skeleton Loader

Skeleton Loader

Skeleton Loader

Skeleton Loader

Skeleton Loader