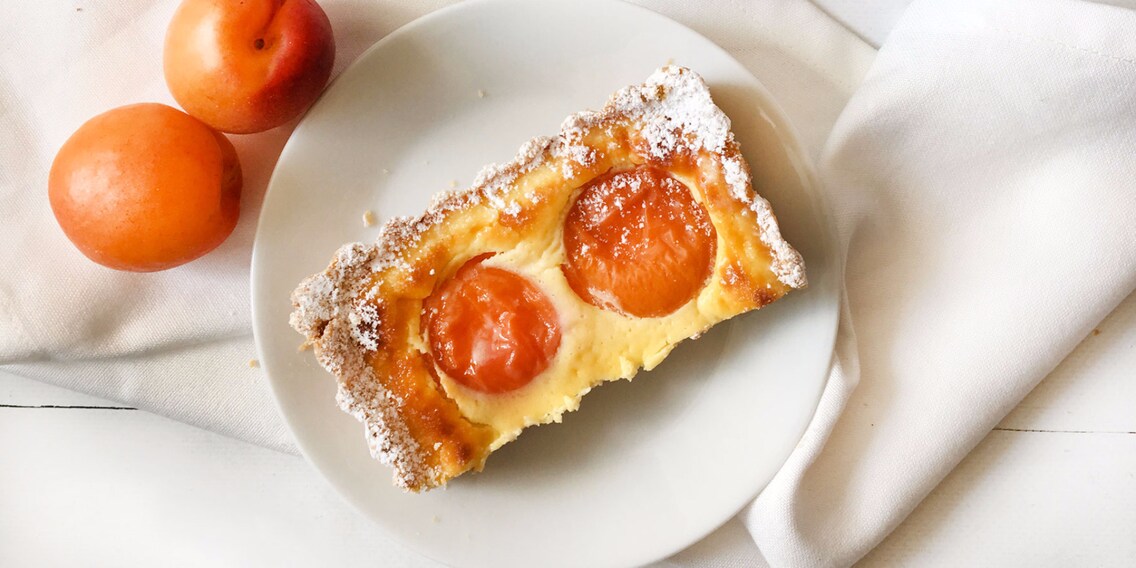 Apricot and yoghurt tart
Spreitenbach, on 04.07.2016
Ripe, succulent apricots, crispy pastry and a light yoghurt filling – now that's what I call a taste of summer!
Apricots are in season between late June and late August. Personally, my favourite apricots are from Valais; however, I may be a bit biased as my grandfather from Sion had a small orchard of fruit trees including apricots.
The essential ingredient for making this tart is fresh apricots. Frozen ones will turn your tart into a soggy mess and let's be honest, tinned ones just don't cut it, do they?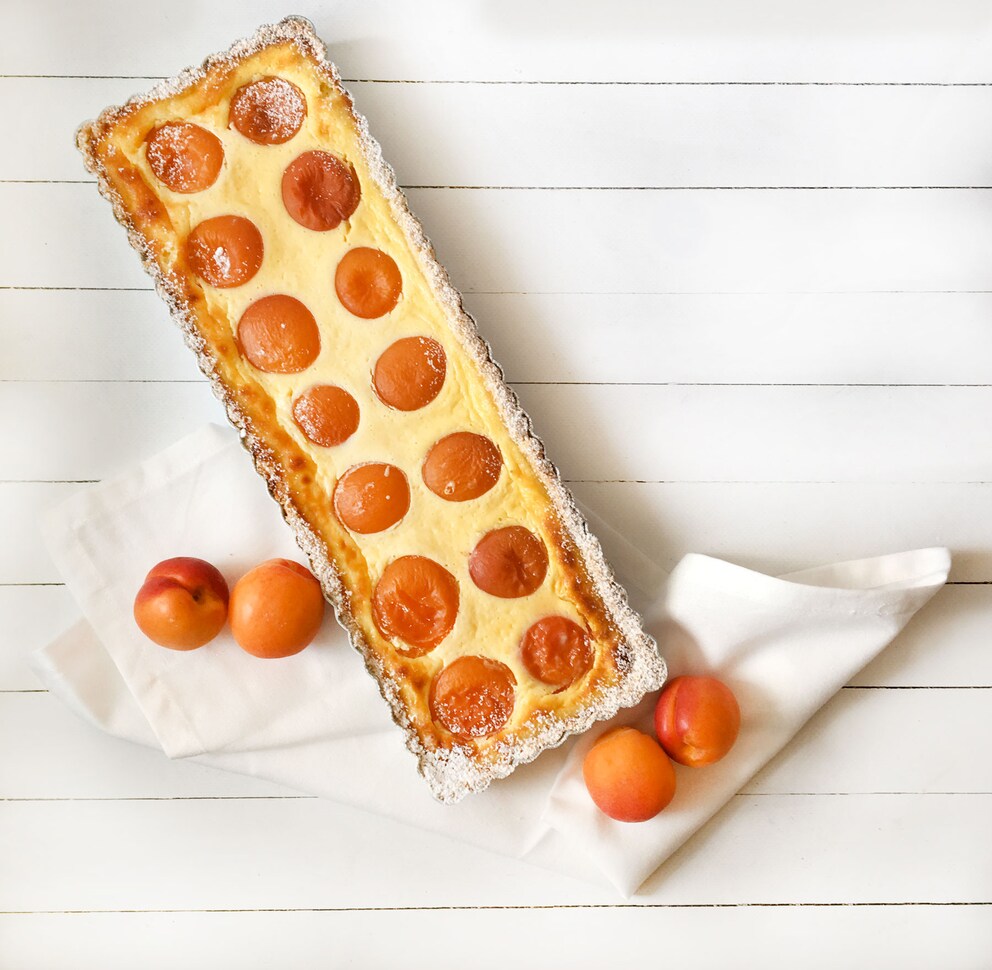 This tart is quick and easy to make and tastes best when served the following day after spending the night in the fridge. This will bring out all the amazing flavours. A little whipped cream or vanilla ice cream are great companions but this tart really tastes amazing without any extras!
Recipe for apricot and yoghurt tart > Makes a rectangular or round tart (length or diameter approx. 28cm)
For the pastry:
250g flour
Pinch of salt
80g sugar
110g cold butter
2 egg yolks
2 tbsp ice cold water
For the filling:
8 large apricots
50 ml whipping cream ("Vollrahm")
200g Greek yoghurt
60g sugar
2 eggs
Preheat oven to 180°C fan (or 200°C top and bottom heat).
For the pastry, put flour, salt and sugar in a large bowl. Cut cold butter into small cubes and add to flour mixture. Rub in with your fingertips until the mixture resembles crumbs.
Add egg yolks and water and knead briefly until pastry is soft.
→ If the pastry is too sticky, add a little flour.
Grease baking tin well. Sprinkle your working surface with a little flour and roll out pastry to the size of your baking tin. Place pastry in tin and make sure it runs up the sides.
Bake empty pastry shell for 15min. in the middle of oven.
In the meantime, prepare the filling by mixing yoghurt with whipping cream, sugar and the two eggs.
Wash, halve and pit apricots.
Take prebaked pastry shell out of oven and pour filling onto it. If you have too much filling, make sure it is not filled higher than 1cm under the edge of the pastry as the apricots will push it up a little further.
Place apricots onto yoghurt filling with cut side facing downwards.
Bake tart in the middle of oven for 35 to 40min. until edges are golden brown.
Carefully take tart out of oven. The pastry will be very instable while hot and the filling still runny. By the time the tart has cooled off, everything will have set.
Leave tart to cool completely and keep in fridge before eating.
Optionally sprinkle with icing sugar before serving.
And now enjoy your slice of summer!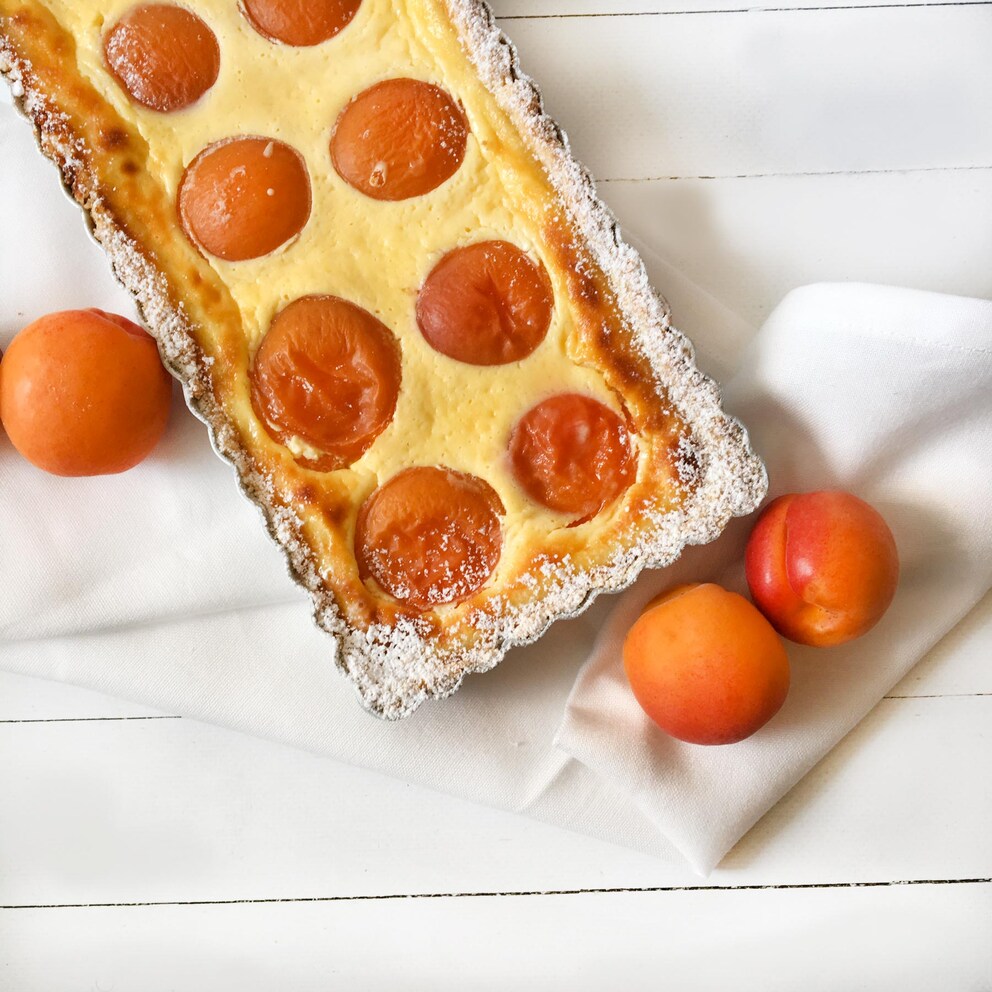 Products you might need for making this tart
---



This full-time mum and video editor has been rattling those pots and pans since 2012 when she started her baking blog lalaSophiebackt.ch. She loves all things sweet and colourful.
---
These articles might also interest you
Skeleton Loader

Skeleton Loader

Skeleton Loader

Skeleton Loader

Skeleton Loader

Skeleton Loader